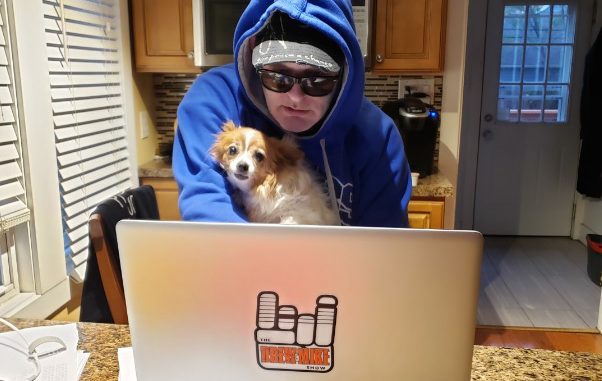 Podcast: Play in new window | Download (Duration: 2:35:37 — 71.7MB)
Tom Mazawey (@TomMazawey) & Marc Fellhauer (@MarcFell) are here today!
We learn about Orbiters, Joker is a movie, Dallas ex-cop guilty of murder, an I-75 billboard porn call, Demi Moore's book, California v. NCAA, a new bonerline and a ML Elrick update.
In case you missed yesterday's podcast, Maz wants to remind you that it's the start of hunting season.
Staying with Bill was the gutsiest thing that Hillary Clinton ever did. Chelsea's was pretending she has a real job.
Former Dallas Police Officer Amber Guyger has been found guilty of first-degree murder in the death of Botham Jean.
Matt Riley had to skip leg day due to an injury sustained while engaging in some crazy dancing.
Creepy 'orbiters' are sliding into teens DM's & paying underage girls for skanky pictures… allegedly.
Ann Marie LaFlamme's change in hair color hasn't slowed down the creepy comments on her Instagram page.
Drivers on I-75 saw a naughty billboard Saturday night thanks to a couple of jokers. We call Dr. J, who witnessed the porn billboard, but now that his name is linked to the story, he's not too psyched to talk.
Drew is getting into the expert testimony industry.
Millennials have overtaken bagels as the most likely demographic to fall for scams, or possibly scam-olas.
New Documentary alerts. The Amazing Johnathan Documentary has some unusual twists. On HBO, Buzz Bissinger credits Caitlyn Jenner for helping him get into cross dressing & weird fetish stuff in the documentary Buzz.
The Bonerline is about as fired up as Greta about a myriad of different topics this week. Call or text (209)-66-BONER to air out your grievances about the show.
Maz floats anti-vaxx conspiracy theories yet again & refuses to back down.
Nobody seems to have got Colin Kaepernick's approval to perform at the non-diverse Super Bowl Halftime show.
As of 2023, student athletes in California will be legally allowed to sell their name/likeness despite the NCAA's whining.
Stacey Dash's new book must not be selling too well, cause she claims she can't afford a lawyer after being arrested for domestic violence.
Marc is celebrating after being proven right when he called BS on the story of the Virginia girl who was held down by white classmates while they cut her dreadlocks.
The final edition ever of This Week in Soft Rock to include: '75 Booker T drummer Al Jackson was shot dead, '87 Whitney Houston #1 with Didn't We Have it All, '93 Kate Pierson from the B52s was charged with trespassing, '02 Madonna voted greatest female singer of all time.
Some people are saying David Lee Roth announced the end of Van Halen as a way to promote his new Vegas residency.
R. Kelly finds it very unfair that he's only allowed to have one of his sex slaves girlfriends visit him in prison.
Ray Lewis had to drop out of Dancing with the Stars due to an old foot injury not for being involved in a murder.
Send an email to [email protected] to show your support for the ML Soul of Detroit & let them know how much you enjoy the other wholesome shows on the Red Shovel Network.