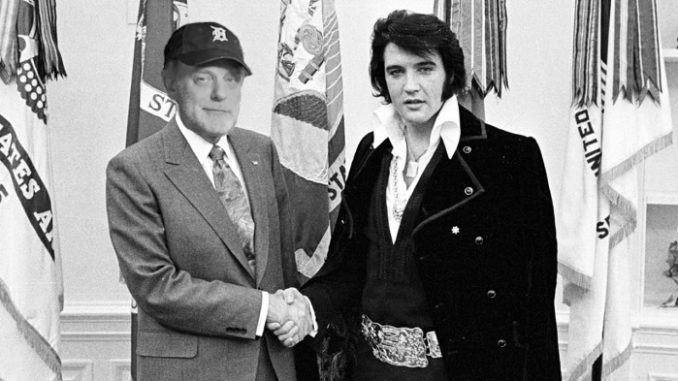 Podcast: Play in new window | Download (Duration: 2:59:07 — 143.9MB)
Elvis: The King of stage banter, Howard Stern v. Ryan Ermanni, Brendan 'Clap' Fraser's comeback, Justin Bieber's mental health break, Jennifer Lawrence turns political, Celebrity COVID PSAs, even more Drew Crime, and Drew's jock strap advocacy.
Howard Stern takes on Ryan Ermanni & Deena Centofanti. Fox 2's the Nine clearly wins this fight. JLo is not going to come on your show.
Alex Jones does his first interview since losing his first defamation lawsuit from the Sandy Hook parents. Alex 'wins' by yelling.
The Elvis movie is now available on HBO and it's surprisingly really good. We revisit the fantastic stage banter of The King.
Sports: Maz has a hot take on LSU and Brian Kelly. Drew's Hokies not only lost to Old Dominion, but the coaches were locked in the elevator AND the locker room was robbed. Shawn Windsor is pissed off at college football.
Drew Crime: The death of Betty Gore and madness of Candy Montgomery. Memphis jogger Eliza Fletcher's body has been found. The 'Canadian Stabbers' are going down. RJ McLeod has been busted in El Salvador.
Poor Meghan Markle claims she an ugly kid. She is now a key note speaker at One Young World summit. She complains about her tough life on her latest self-absorbed podcast.
Grab your EXCLUSIVE NordVPN Deal by going to nordvpn.com/dams to get up a Huge Discount off your NordVPN Plan + 4 months for free! It's completely risk free with Nord's 30-day money-back guarantee.
Local: The Auto Show is next week. Joe Biden is coming to town to wreck traffic for us all. Cedar Point is dropping the Top Thrill Dragster. Local stud, Hunter Brown, kicks ass in his MLB debut. He's on BranDon's fantasy team. Jerry Green declares the Justin Verlander trade the worst trade in 100 years.
Jennifer Lawrence has nightmares of Tucker Carlson and hates her family because they are Republican.
Podcast Movement is super sorry for letting Ben Shapiro come to their convention. Cumulus pulls their support of Podcast Movement in response.
Social media is dumb, but we're on Facebook, Instagram and Twitter (Drew and Mike Show, Marc Fellhauer, Trudi Daniels and BranDon).