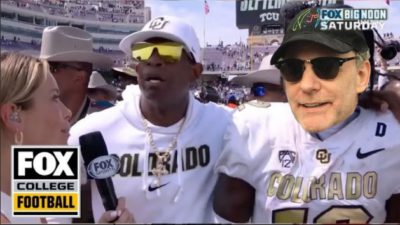 Podcast: Play in new window | Download (Duration: 2:51:49 — 157.4MB)
Eli Zaret stops by for a college football recap, RIP Jimmy Buffett, RIP Smash Mouth, a port-a-potty brawl, an entitled brat on cop cam, new boner armies, and we talk to Gordon G.G. Gebert about his newest book, Larry Sinclair & Ron Jeremy's party trick.
Eli Zaret drops by to praise Deion Sanders and Colorado, discuss the corpse of Lee Corso, Ohio State's crappy win, recap MSU vs CMU, Keon Coleman's performance, LSU's loss, Jim Harbaugh's farewell season, ACC expansion, Reggie Bush vs the NCAA, Urban Meyer fluttering away, the biggest tailgate in the world, the start of the NFL season, RIP Gil Brandt and more.
New Boner Army Generals: Riley Tiernan. Rachel Stuhlmann.
There was a porta-potty brawl at a Morgan Wallet concert in Pittsburgh. We attempt to call one of the fighters, but come across an angry Count David Wimp's doppelganger.
That beast, Meghan Markle, is never going back to the UK because she'll never curtsy to Kate. Not-a-Prince Harry's Netflix show BOMBS. Meghan dragged Harry to the Beyoncé concert.
Britney Spears rode a horse topless. She's on a tattoo spree. Hollywood actor Sam Asghari was on the SAG-AFTRA picket line.
Jason Alexander kicked out of a gym in Tennessee for being creepy. We call the gym to ultra-confirm his ban.