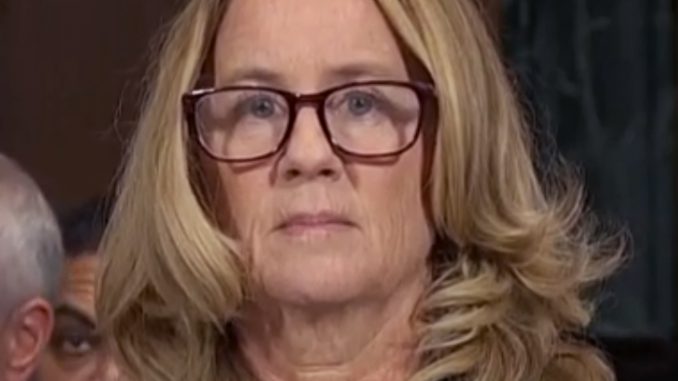 Podcast: Play in new window | Download (Duration: 2:16:12 — 94.0MB)
Trudi Daniels (@TrudiDan) & Marc Fellhauer (@MarcFell) are here today!
A new picture of Dr. Christine Blasey Ford, a talk with TJ Miller?, Maddox Ritch's body found, Jim Nantz loves parades, Elon Musk is charged with fraud, Eli stops by and Maggs is Drew's new 'time vampire'.
Drew has no time today because Maggs had another emergency room visit today for his swollen ear & mouth of skank.
The road work stoppage has temporarily started again after Snyder threatened to fine the union & bring in the National guard to get the project going.
Eli enters the studio to talk about the Kavanaugh hearing, some football, a few of the books he's written, female sports broadcasters & he recycles some Lion's material from WJR.
More Kavanaugh News:Dr. Christine Blasey Ford gave testimony on Kavanaugh today where she recounted an argument between her husband & herself over adding a second front door that resulted in her revealing her Kavanaugh memory. Lindsey Graham blew a gasket at the Kavanaugh hearing because people are being mean to Brett & making him cry.
OSU is getting crap for putting out a poorly timed ad promoting silence in light of the Urban Meyer controversy.
Hannah Storm & Andrea Kremer are the first all-female broadcast team in the NFL that nobody wants to hear.
Jim Nantz scored the gig of Grand Marshal for the 92nd annual Detroit Thanksgiving Day parade creating a perfect boring pairing.
Millennial's set unrealistic expectations for their potential earning power & depressed that they're falling short. Meanwhile, Gen Xers are still striving for apathy.
Fashion week in Milan is setting a dangerous precedent by attempting to kill cleavage & declare that boobs are out.
Tesla stock tanks after hours due to the SEC charging Elon Musk with fraud. Let's hear it for tweeting!
A Rod was blown off GMA because Michael Strahan was jealous. Also, No one even knew A Rod was on GMA.
Tiger Woods' new girlfriend & stabilizing force Erica Herman has been evicted from her apartment & is now $240,000 debt but Tiger doesn't seem interested in helping.
The 30-year-anniversary of Greg Louganis having his diving board accident prompted TMZ to talk to 'LubedAnus' about growing up with kids calling him 'Loose Anus'.
Tom Sizemore was freaking people out on the set of El Coyote when he showed up a full Jackson late high out of his mind.
Kelly Ripa got all butthurt when a random person commented she looked too old for Mark Consuelos & decided to respond with a cringeworthy 'clap back'.