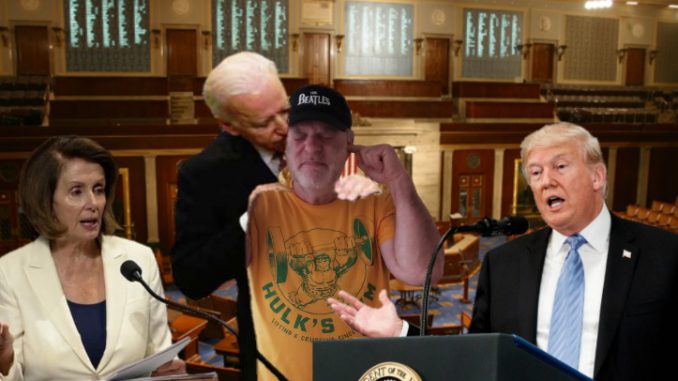 Podcast: Play in new window | Download (Duration: 2:17:31 — 63.4MB)
Trudi Daniels (@TrudiDan) & Marc Fellhauer (@MarcFell) are here today!
Drew is already sick of Ukrainegate, Twitter histories won't let us have nice things, the DSO head is still alive, Greta Thunberg v. George Carlin, True Crime Thursday and Trudi's toilet troubles.
Even though Drew doesn't want to talk about impeachment and the Hunter Biden debacle, here we are talking about impeachment and the Hunter Biden debacle.
Mama June and her boyfriend threw out some slurs before entering court. Thankfully Harvey breaks it down as the lead story on TMZ Live.
A guy at College Game Day managed to raise over a million dollars for a children's hospital thanks to his sign. But Twitter histories won't allow us to have nice things.
A woman broke down the reason that Greta Thunberg is so triggering for men. As men, we didn't even know we were 'triggered'.
George Carlin was ahead of his time when he delivered his climate change talks in the form of a bit from 1992.
With all the recent signs of Idiocracy becoming reality, Drew managed to find solace in Mike Valenti's aggravation. It's also nice to know that Maz doesn't follow anyone's instructions, no matter what.
One of the first polls on the President Trump impeachment hearings shows a majority of Americans in favor of proceeding with the process.
Lorne Michaels Emmy's acceptance speech reminded Drew how much funnier Darrell Hammond's Bill Clinton was than Alec Baldwin's Donald Trump.
The Emmy's tried to kill off Leonard Slatkin, the music director for the DSO, during the in memoriam segment.
Trudi is managing to get her $2,500 water bill knocked down by the county & Drew is livid seeing as he had to pay his entire giant water bill.
Today marks the 10-year anniversary of Righteous Rick choking out de-pantsing some dude during a Detroit Lions game.
True Crime Thursday: A couple of hoarders who are in danger of losing their kid to CPS, end up disappearing a social workers body amongst the enormous piles of crap that were strewn about all over the house of skank. Three months after getting out of prison for killing the wife of her lover, Jennifer Reali died of pancreatic cancer.
Demi Moore Part 3: After going to rehab for whip-its, Demi Moore's kids ghosted her for the next 3 years. Ashton Kutcher checked in on these revelations on Twitter to let everyone know that he could say some snarky stuff, but he won't cause he's such a nice guy.
Wendell Brown from Detroit was just released from a Chinese prison after being sentenced to 4-years for a bar fight that Wendell claims was self-defense.
A man whose father suffered a heart attack while in an altercation with his son, had his wife stabbed to death by the same son while 4 paramedics worked on the first victim.
The trial for Amber Guyger, the off-duty cop who shot Botham Jean dead in his own apartment, started today.
Michael Jackson's former umbrella holder claims he snuck women into Neverland for Jacko. There's a huge flaw in his claim though.
Livonia & Troy are very nice communities. Some people are even saying they are in the list of the top 10 cities in the U.S.
Surprisingly Pit bulls are not top on the list of most popular dog breeds in Detroit, but Pitbull is on the list of popular musicians.