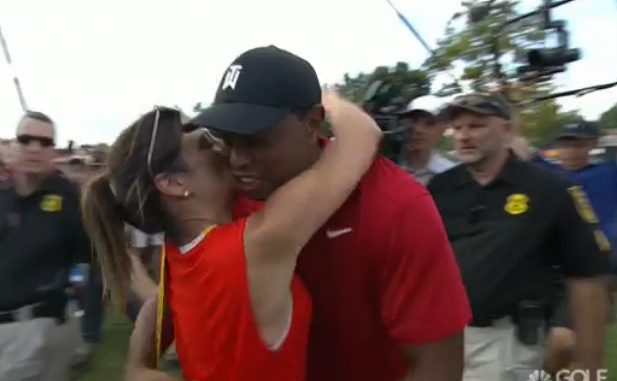 Podcast: Play in new window | Download (Duration: 2:31:37 — 87.2MB)
BranDon (@Pro_Duecer) and Marc Fellhauer (@MarcFell) are here today!
Tiger Woods is back & off probation, Bill Cosby's sentencing day, Pistorius as O.J., calling Wanda Barzee's hotel, nude yardwork is totally fine, even Paulina Gretzky can get old, Addison Russell suspended and we get our popcorn ready for Thursday's Kavanaugh hearing.
Not a Sports Podcast sports report: Drew hates blowouts. He also had to suffer through an upset of his Virginia Tech Hokies.
The beginning of today's show is a disaster as reads are missing, Marc's on too many cold medications and Drew spills his Diet Coke over a non-caulked board.
SCOTUS update: Dr. Christine Blasey Ford is set to testify at Brett Kavanaugh's Senate confirmation hearing.  There doesn't seem to be anyone else willing to testify. Ed Wheland, an ally of Kavanaugh, did some great sleuthing and decided to name another guy as who probably assaulted Dr. Ford, even though there's no evidence. The public doesn't see to be on Kavanaugh's side.
Movie News: Michael Moore's new film 'Fahrenheit 11/9' flamed out at the box office. How can the Predator bomb when the predator is in the film?!? Even though we think we like Emily Blunt, she's kind of a bummer. We all liked Sicario even though we cannot pronounce it.
Drew finally watched 'Pistorius" on Amazon Prime.  It's amazing the similarities between the Blade Runner and OJ Simpson.
Podcast news: Countdown to Capture is a new true crime podcast by the Newport Beach Police Department. SIST: the need a new narrator. WDIV has a new podcast on White Boy Rick.
Amazingly Dustin Johnson seemed to get sick of Paulina Porizkova Gretzky. Drew seems to understand as he has the hots for the alleged mistress.
Jim Fouts had to answer questions under oath about his adobe-cella-player tapes where he said things about black people, dried up women and the disabled. He pled the 5th like the weasel he is.
The damn roads aren't being fixed because of the MITA work stoppage. Governor Snyder thinks about using the National Guard to do the work.
Lili Maz got her driver license, but no new car… yet. Tom is running out of time to bid on the Silverdome road signs.
It's apparently totally legal to do yard work in the nude.  We call the neighbors to see if they are cool with it as well.
Wanda Barzee is out of jail after serving her sentence for kidnapping Elizabeth Smart. She's staying at a hotel where the front desk wasn't very helpful when we called.
Chicago Cubs player Addison Russell is suspended while MLB investigates (again) his ex-wives' abuse allegations.
Michelle Obama sells out and sold out her book tour shows. She also officiated a wedding for some reason.
Tiger Woods is now free to do painkillers again… and coincidentally he won his first tournament in 5 years. He also told his new piece he loved her even though her self life is about 3 hours.
There's totally nothing odd about a 33-year-old Michael Jackson playing with an 11-year-old Macaulay Culkin.
Elizabeth Thomas Cummins Moonves was on 20/20 Friday.  Even though she had an amazingly rough ordeal being kidnapped by Tad Cummins, 20/20 was giving her way too much credit for being 'smart'.
Guys We F****d is a podcast where 2 girls talk about the guys they f****d. They are comics, yet they still got crap for something they said 4 years ago.