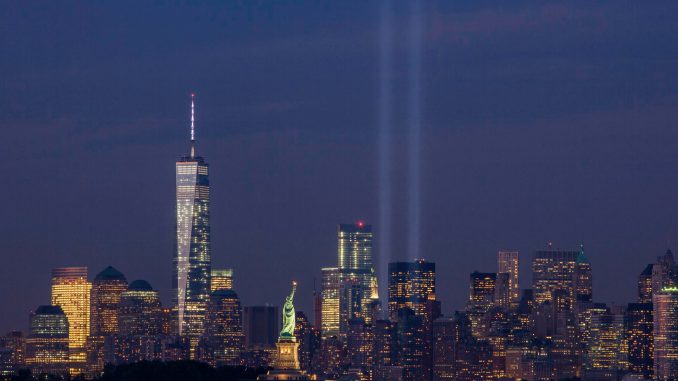 Podcast: Play in new window | Download (Duration: 2:48:45 — 97.0MB)
Tom Mazawey (@TomMazawey) & Marc Fellhauer (@MarcFell) are here today!
It sometimes feels like #NeverForget is becoming #IDontRemember, the Lions suck but Mitch Albom thinks the fans do, Jeff Pearlman talks to us about his USFL book, another terrible Larry Nassar story, Pluto is a planet again and Maz gives Eric Show AIDS.
Today is the 17th anniversary of the 9/11 tragedy, but it feels like there has been very little coverage.
Julie Chen isn't just taking a short break to be with her creepy family, she's sticking by her man & supporting Leslie Moonves.
Paul McCartney is promoting his new album by telling a story about the time him & Lennon went full jerk together at John's house.
Lili's birthday is coming up quick & Maz is still squatting on the sweet deal on a pre-owned Jeep in hopes that Kathy will cave.
Maz risks his single day on the podcast by hating Blackbird & using a pocket fan to blow Drew's cigarette smoke away from him like Larry Hagman.
Pluto is back to planetary status after having its planet card revoked 12 years ago. We blow in a call to Alden Tombaugh, the son of the man who discovered Pluto & told us to "drop the matter" Clyde Tombaugh.
Not A Sports Podcast:The Lions laid an egg like they never have before last night losing to the Jets 48-17. The worst debut for a Lions coach in history. Beth Mowins tried to soften Matt Patricia's awful debut it seems like no enjoyed her play-by-play.
The WNBA is the basketball equivalent of welfare that should essentially be a volunteer league, yet players want NBA-esque wages.
We're calling our favorite author Jeff Pearlman to talk about his new book Football For A Buck: The Crazy Rise and Crazier Demise of the USFL.
Deadbeat Denise Richards is being sued by AmEx for maxing out her card to the tune of $20K+ & skipping out on the bill.
Drew is protesting the protesters who are protesting against Dallas cops in the fatal police shooting of Botham Jean.
One of Elizabeth Smart's crazy kidnappers is about to be released from prison at age 72. We are eagerly awaiting comment from Ed Smart.
The Catholic Church is being investigated on a state by state basis for child molestation, pedophilia & covering it all up under the guise of faith.
A new lawsuit claims that former MSU AD George Perles covered up a video recorded assault, drugging & rape of an MSU athlete by Larry Nassar in 1992. Nassar allegedly impregnated the 17-year-old as well.
Steve Yzerman told the Tampa Bay Lightning that he's out leading to people being over excited at the prospect that he will be the Red Wings next GM.
Nicki Minaj & Cardi B are having a trashy publicity battle that will most likely end up with them doing a song together.
The Silverdome sign auction is going on & Maz is keeping an eye on the prices looking for an opportunity to pounce.
Mitch Albom has getting pounded in the comment section of his recent soft Lions pieces so much so that comments needed to be disabled. He's mad at the Lions fans for booing his friend, paid guest & charity partner  Matthew Stafford.
David Hogg got the microphone ripped from his self-righteous hands by self-righteous Michael Moore after he started spouting nonsense & encouraged Canadian's to vote in a US election.
Today in rock to include: 62′ Ringo Starr got booted off of Love Me Do, 68′ Larry Graham got busted for weed in London, 70′ Jimi Hendrix did his last interview, 71′ The Jackson 5 had a self titled animated series premier, 87′ Peter Tosh shot dead, 87′ Peter Gabriel swept the MTV Awards, 88′ Michael Jackson played a concert for 125,000+ fans in Liverpool, 96′ Noel Gallagher quit Oasis, 01′ Gerard Way started My Chemical Romance after witnessing the tower attacks, 03′ Chong's Bongs got their buzz blown, 15′ Uptown Funk became the 5th biggest single in the UK.