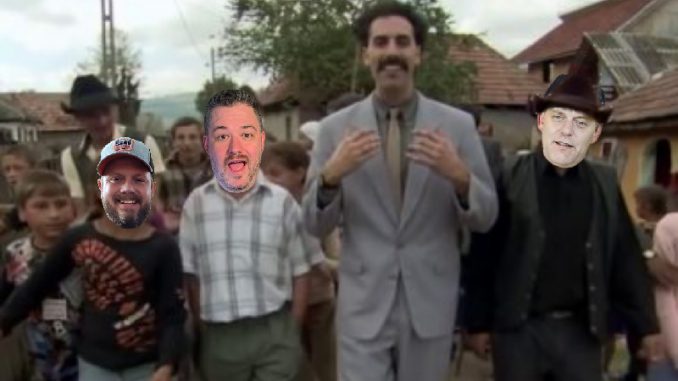 Podcast: Play in new window | Download (Duration: 3:01:17 — 83.1MB)
Borat 2 review, Todd Gurley helps the Lions a win, Hunter Biden's dong, Michigan dominates & MSU turns over, a deep dive on Steve Bing, a Drew Crime weekend, and Clarktober continues.
MSU outgains the powerhouse Rutgers Scarlet Knights but loses thanks to turnover; while COVID-19 leads Michigan to a victory over Minnesota.
The Detroit Lions defeated the Atlanta Falcons due to a boneheaded play by Todd Gurley and a quick Matthew Stafford drive.
Brett Phillips is the unknown hero of the World Series so far following one of the best games in MLB history.
Mookie Betts & his mom are still mad about a little league coach that cut him when he was 5-years-old, but some people are saying that it's bunk.
Adele looks like Kate Winslet now and hosted Saturday Night Live last night. By the way, Rebel Wilson remains "sizzling".
Don Trump Jr. posed in front of a 'Don Jr. 2024' poster, but nobody likes him enough for that to come to fruition.
Joe Buck and Troy Aikman have a traitor among their co-workers. Joe Buck popped off on his podcast, Daddy Issues.
Steve Bing inherited $600,000,000 and became a stud. Drew does a deep dive on the Hollywood "success".
Jennifer Aniston vs Kanye West. Kanye West appeared on Joe Rogan's podcast to push his political platform.
Two men convicted of a 2009 killing will get a new trial because a juror broke the rules and went on Facebook.
48-year-old Trent Paschal killed his wife because of infidelity… then recorded a message to his children.
Gretchen Whitmer fears that President Trump rallies spread COVID, but the state Department of Health and Human Services has only found one case so far.
Drew drops a sweet Van Halen cover. Ozzy told a tale of when Eddie Van Halen drunk dialed him at 4am and asked him to join Van Halen.
Follow us on Facebook, Instagram and Twitter (Drew and Mike Show, Marc Fellhauer, Trudi Daniels and BranDon).