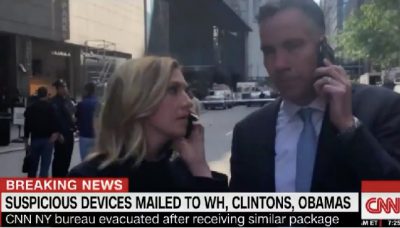 Podcast: Play in new window | Download (Duration: 2:36:55 — 90.2MB)
Trudi Daniels (@TrudiDan) & Marc Fellhauer (@MarcFell) are here today!
Unabomber copycat sends bombs to Democrats, Megyn Kelly is sorry, Greta Van Fleet v. Cardi B, Gary Graff's music update, the hunt for Ted Patchell, fuzzy Filter details & happy anniversary Hudson Building implosion!
Halloween News: Oak Park has reversed its ban on clown masks. Megyn Kelly apologized for not understanding why blackface might offend people. The people most offended by her comments was her own network.
Marc defends his baby picture schedule & BranDon continues to insist that his gender reveal party was actually a BBQ.
Cardi B's new single Money is the #1 trending song on YouTube with over 6M views in less than a day.
We're calling Mr. Big Stuff, Gary Graff to talk about the roasting of Greta Van Fleet by Pitchfork, the upcoming Queen movie Bohemian Rhapsody, Jimmy Page playing with The Firm, the Roy Orbison hologram tour & the return of Woodstock in Kansas?
Jeff Lynne from ELO had such a kickass show at LCA back in August that he's returning for round 2 in July.
A protester at a Patriot Prayer breakfast told a 9/11 widow 'your husband should rot in the grave', except she didn't actually know anybody who died in the towers.
The press conference on the opioid epidemic was overshadowed by pipe bombs with white powder attached that were delivered to the Clintons, Obama, George Soros, CNN, John Brennan & Eric Holder.
Drew had to give the dogs a bath today & untangle some FEECES from Maggs' tail of skank.
Breaking Sports News: MSU was fined $10K for the 'clotheslining' of Michigan players during the U-M/MSU game. Both were reprimanded by daddy Delany.
A University of Michigan gymnastics coach was fired for having sex with an 18-year-old student athlete in public. The Free Press didn't name her, as they decided it wasn't consensual.
Lauren McCluskey was a University of Utah student who was murdered by her ex-boyfriend who lied about his age & criminal record.
'Bloids: Drew grabbed the 'bloids today so he could see all the different ways that Stars are just like us. Pete Davidson & Ariana Grande may have broken their engagement but don't worry, they're still going to try to make it work. Selena Gomez is currently suffering from a serious case of PTSD after Bieber married Hailey Baldwin. Anna Faris is allegedly having a rough time with her Chris Pratt divorce. Rumor has it that Lindsay Lohan has fallen off the wagon.
Some blind lady thinks that she had sex with Stevie Wonder. Marc is over confident in ability to get her phone number.
Some A-Hole glued a cat to a highway in Oregon in an attempt to get rid of him, but fortunately Sticky the cat was rescued & adopted.