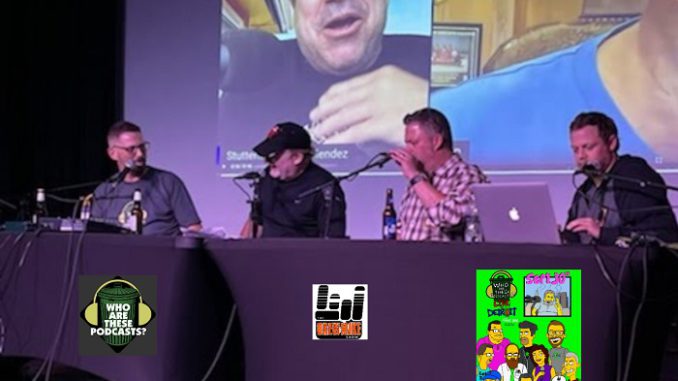 Podcast: Play in new window | Download (Duration: 3:01:06 — 145.5MB)
WATP's live show at the Magic Bag, Detroit Lions exciting loss, Eli Zaret stops in, Monster: The Jeffrey Dahmer Story, Antonio Brown's Dubai adventures, Tuesdays with Morrie anniversary, Deconstructing Karen, Clarktober, and Drew's WDRW streaming super mix.
The Detroit Lions blew another game in very exciting fashion. The defense failed against the Seattle Seahawks.
Eli Zaret drops by to recap MSU's disaster at Maryland, Michigan's victory in Iowa, Tua Tagovailoa's scrambled brain, JJ Watt's heart problems, Aaron Judge and the race for 7th place, Shohei Ohtani's crazy season, and the Indonesia soccer riots that have left many dead.
Bill Maher has a hot take on Boston Celtics coach, Ime Udoka, and consenting relationships in the workplace.
School News: Parents at Saline High have absolutely no say in their kids' names. Randolph Union High School volleyball has two male locker rooms and zero for the female. Farmington, MN students walked out after the school got rid of Homecoming 'King and Queen'.
Hurricane Ian: Kamala Harris wants minorities to receive aid first. Coast Guard hero, Zach Loesch, is about to lose his job for not being vaccinated.
Thank you to everyone who came out to the WATP Live show in Ferndale on Friday. Despite Stuttering John's apparent call to The Magic Bag, the show was sold out and the crowd was awesome. The Brothers Cortez and The Isotopes played a great show at Otus Supply in Ferndale as well.
Politricks: Donald Trump was in town, but we were too busy with WATP and football to notice. Joe Biden was looking for Rep Jackie Walorski… but she's dead. The White House was straining to do some explaining. Kamala Harris declares North Korea our close ally.
Films: Monster: The Jeffrey Dahmer Story is pretty great. Blonde kinda sucks. Paramount Plus has a doc called '11 Minutes' about the 2017 Las Vegas Shooting. Netflix has Eat the Rich: The GameStop Saga out now.
MacKenzie Scott Bezos and Dan Jewett are getting a divorce. We assume Tony Gonzalez got the Thursday Night Football gig because Jeff Bezos watches him and Lauren Sanchez get it on.
There is a new book about Anthony Bourdain and it's full of hookers, steroids and crappy girlfriends.
Social media is dumb, but we're on Facebook, Instagram and Twitter (Drew and Mike Show, Marc Fellhauer, Trudi Daniels and BranDon).