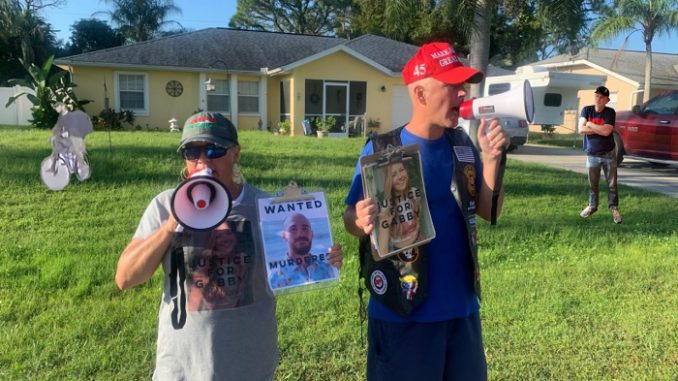 Podcast: Play in new window | Download (Duration: 3:00:28 — 165.7MB)
Andra the bullhorn Brian Laundrie protester, Thomas Markle takes the high road, new Jack White music, Oberlin v. Cisgender men, mandate madness, Brittany Murphy HBO doc, and the infamous Evan Longoria pic.
We find out the MLB league championships are in progress. Boston fans are being really mean to A-Rod. Trevor Bauer is on YouTube instead of the NLCS.
The Buffalo Bills lost MNF on a Josh Allen slip. BranDon lost his fantasy matchup. Marc lost his parlay.
We remember the quick 2-minute segment of Evan Longoria's dick pic that got the Drew & Mike Show in trouble with the FCC around 2012.
Andra Griffin is hanging out at Brian Laundrie's house every single day. Chris Laundrie got fed up and ripped her sign… now he's being sued for $40. We chat with Andra.
We try and connect with Brian Laundrie's doppelganger and we check in with the hotel that narc'd on him.
Simon Monjack was the biggest con and Brittany Murphy paid for it. HBO Max has a new documentary that tells the story.
Karl's WATP show is climbing up the charts. The Reddit page is being really mean to Drew, but they LOVE Eric Zane.
That 70's Show gets a spinoff: That 90's Show! We wonder if that Scientologist (and rapist) will reprise his role.
Katie Couric jumped on the Today Show. Savannah Guthrie has vocal fry now. Marc coins 'lateral dating'.
Thomas Markle speaks out on Good Morning Britain and takes the high road. The poor old man has been dumped and wants to see his grandbabies. Meghan and Harry have a new investment firm (cause they need more money) that isn't as woke as they think it is.
Cisgender men are not welcome on the Oberlin College campus. Peter Fray-Witzer needs a lot of time to process things before someone enters his space.
Mandates: The Washington State Cougars blow out their coach. Southwest bails on their plan. Allison Williams quits ESPN. Congress and other special people are exempt… not you. Religious exemptions are confusing.
Social media is dumb but we're on Facebook, Instagram and Twitter (Drew and Mike Show, Marc Fellhauer, Trudi Daniels and BranDon).