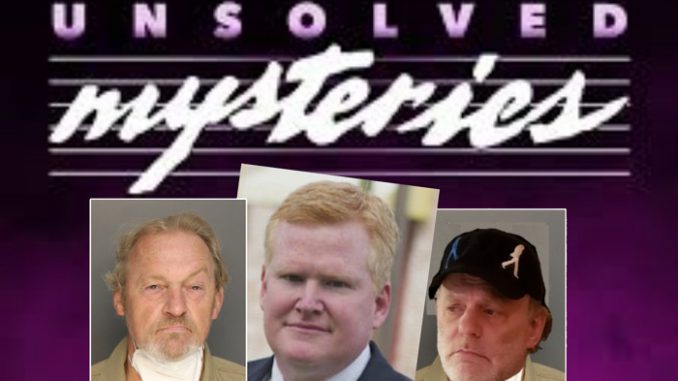 Podcast: Play in new window | Download (Duration: 2:31:23 — 139.0MB)
Alex Murdaugh's alleged shooter joins us, Shatner survives space, the Great Resignation, Millennials wreck the mafia, Britney Spears' Uncle v. her fans, The Beatles: Get Back doc, and Urban Meyer's girl Cayman Nebraska has been spotted.
Karl and Eric Zane will be taking a look at Dave & Chuck the Freak on this week's upcoming Who Are these Podcasts? with special guest: Drew.
Britney Watch 2021: Uncle Willie enters the chaos and tells off her fans. Britney vs Jaime Lynn's book. Jason Alexander is going to take a mental health break… after using too many hashtags.
We scoop Mandy Matney and the Murdaugh Murder podcast and chat with Curtis Smith… who allegedly shot Alex Murdaugh in an insurance fraud scheme.
Gone Gruden Fallout: The NFL has all the answers. Adam Schefter is apparently in trouble now, if you think he's a journalist. Carl Nassib needed to take a mental health day. John Gruden has been kicked out of the Tampa Bay Buccaneers Ring of Honor. Jeff Fisher had to come out and make his own statement.
Katie Couric edited some of Ruth Bader Ginsburg Colin Kaepernick comments to "protect" her. Here's the original article from Yahoo.
Drew doesn't care for Seth Rogen that much these days or his best friend, #MeToo's own James Franco.
The world's most expensive carnival ride sent William Shatner in 'space'. Marc wants to send Darth Vader/James Earl Jones up there next.
Econ 101: It's the Great Resignation. The supply chain is messed up as well. Inflation is insane. It is, however, a lucrative time to be a nurse.
Music News: The Rolling Stones cave to wokeness and cancel Brown Sugar. The Beatles: Get Back trailer is out. Paul McCartney "hates" the Rolling Stones.
Dave Grohl and a couple other people will be inducted onto the Rock and Roll Hall of Fame. An exhibit is open if you need to see Dave Grohl in the meantime.
Social media is dumb but we're on Facebook, Instagram and Twitter (Drew and Mike Show, Marc Fellhauer, Trudi Daniels and BranDon).