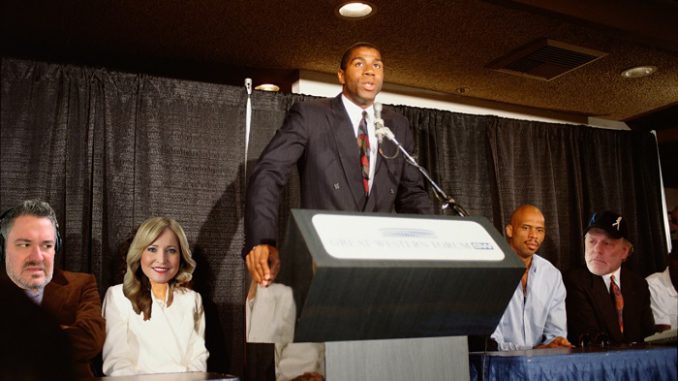 Podcast: Play in new window | Download (Duration: 2:48:26 — 154.6MB)
Magic's HIVersary, Dave Portnoy sex allegations, Yahoo Sports' Dan Wetzel joins us, a new Bonerline, Phoenix Suns owner is a buffoon, dig up and cancel Michael Landon & Kirk Douglas, and Costco Connection's letters to the editor.
Weekend Football is almost here: MSU head to Purdue. Michigan spends the night with Indiana. Detroit Lions won't lose this weekend… huh huh huh huh.
Dan Wetzel dials in to chat MSU & Michigan, weigh in on the Henry Ruggs III accident, discuss the OBJ debacle, try and explain the Aaron Rodgers situation and more. Check out his great College Football podcast right here.
Tom Hanks was supposed to go to space with Blue Origin… but he turned it down and William Shatner jumped on board. The Virgin Galactic celebrity waitlist isn't very diverse.
Marc is reluctantly overpaying for this year's Tickle Me Elmo. We should put one through the woodchipper… if we get two.
Big D Energy: Pete Davidson keeps taking Kim Kardashian on dates to places in New York, so we keep calling them. Kim K's team photo is embarrassing. TMZ decided to get John Legend and Hypo-Chrissy Teigen to comment simply because they were available.
Paul McCartney is a cover boy for Costco Connection, but the highlight of the magazine is the letters to the editor.
Politics: James Carville blames "stupid wokeness" for the Democrats latest losses. AOC says hold my beer. President Biden's vaccine mandates are confusing everyone.
Dig up Kirk Douglas' bones and cancel him. While the shovel is out, dig up and cancel Michael Landon again. Don't cancel Buck Rogers even though he seemingly spread gonorrhea everywhere.
ESPN finally dropped their big piece on Robert Sarver, the owner of the Phoenix Suns. He's a privileged man-child that allegedly loves using the N word. The NBA is investigating.
Social media is dumb but we're on Facebook, Instagram and Twitter (Drew and Mike Show, Marc Fellhauer, Trudi Daniels and BranDon).