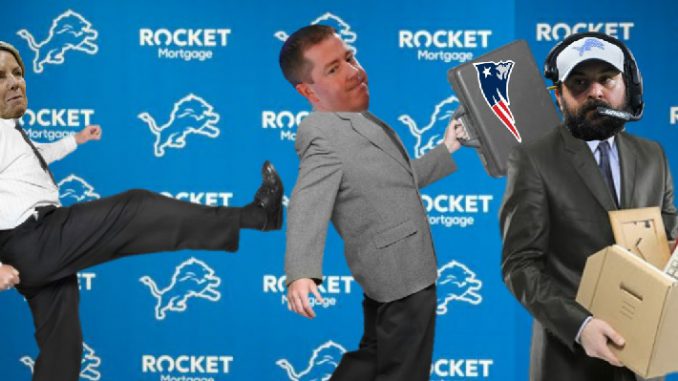 Podcast: Play in new window | Download (Duration: 2:35:24 — 106.9MB)
The Lions blow out Quinn & Patricia, Harbaugh's next, Tyson's fight, Maradona's crazy life, confusing Chapman & Hinckley, Saved by the Bell controversy, rich kids v. capitalism, DB Cooper, and Drew's "constant COVID whining".
Bob Quinn and Matt Patricia have finally been BLOWN OUT! Remember when Matty Patty was accused of rape?
Black Friday was boring… but you could totally Cyber up your Monday by using our Amazon Portal or buying some stuff from our store.
Marc again confuses Mark David Chapman & John Hinckley Jr leaving us to wonder who between the two is the bigger load.
Sarah Fuller became the first female to kick in a Power 5 conference. Meanwhile, Callie Brownson makes NFL history.
JLo wants you to know you still want to bang her. Elizabeth Hurley wants you to know you'd bang her AND her older sister.
Saved by the Bell has some major controversy brewing. Dan Leach LOVES the reboot, in case you need a review.
Joe Biden hurt his ankle. Meanwhile, President Trump is planning a rally on inauguration day. His tiny desk was super cute.
Gretchen Whitmer has been nominated for Time Magazine's Person of the Year leading us to speculate that 4,000 people must be nominated.
Despite the travel warnings due to Coronavirus, people traveled like crazy. Christmas and New Year's should be fun.
Tekashi69 is out challenging a professional boxer even though he has "asthma". His kidnappers have been sentenced to 24 years in prison.
The State of Michigan is STILL trying to mess with the unemployed people they already screwed. Death Row inmates in California are getting better unemployment benefits.
Follow us on Facebook, Instagram and Twitter (Drew and Mike Show, Marc Fellhauer, Trudi Daniels and BranDon).