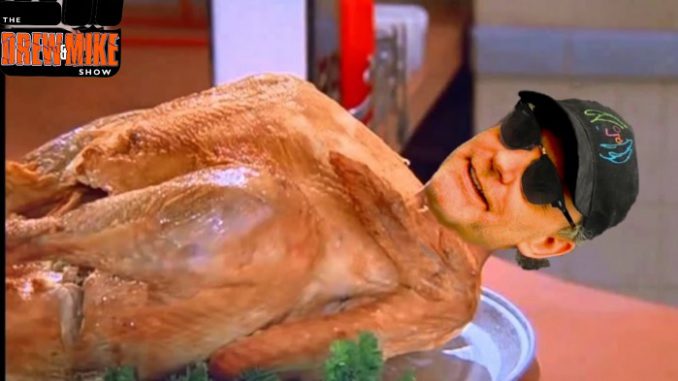 Podcast: Play in new window | Download (Duration: 3:05:21 — 148.9MB)
Happy Thanksgiving weekend, Grammy nominations, Astronaut Strahan, Waukesha murderer rings the right doorbell, WATP Karl joins us, a Bonerline, and the last chance to get our merch… forever.
Happy Thanksgiving! Big Sean will perform halftime at the Detroit Lions game. Michigan will face Ohio State on Saturday.
It everyone's last chance to get our merchandise…. possibly forever. Canada is finally welcome to spend money.
Will Stan Edwards show up at Killer Cares and confront Stoney? Come and see all while supporting a great cause. Plus, we will be there.
WTCM alum, Erika Erickson, leaves Fox 2 to work for 'The Man' in the form of the Wayne County Sheriff's Office.
James Franklin locks in a long term contract with Penn State. His former player at Vandy, Zac Stacy, is roaming the streets after posting bail.
The Waukesha murderer should have never been on the road. "Milwaukee's Malcolm X" believes the revolution has started so he can get clout. The Anti-Zooves (Daniel Rider) apparently sheltered Darrell Brooks for a brief period. JJ Watt is paying for all the funerals.
No one in Onaway can act like an adult in the case between upset hot mom and the school Superintendent.
WATP's Karl "chews up space" on the show with clips from Losers With A Dream with Lisa Lampanelli, Tim Dillon's take on John Hinckley Jr, Tim Dillon vs Michael Che, The Morning After with Kelly Stafford & Pretzelgate, and promote the local WATB (Who Are These Beers).
BranDon really wants to see Oliver Stone's new JFK doc. QAnon nut jobs are STILL in Dealey Plaza waiting for JFK Jr and Tupac. Hinck-Dog continues to make bangers.
2022 Grammy Nominations: Nominations are out. Sexual predators are nominees and Rolling Stone is upset. Machine Gun Kelly is super sad for being snubbed. Jay-Z has the most nomination in history. Tony Bennett has no idea he's nominated.
Farrah Abraham has new gross sex tape out and BranDon is forcing us to watch it. It's so bad we're not linking it.
Michael Strahan is the latest "astronaut" to go to space in Jeff Bezos' penis rocket. He actually might be the most deserving one of the group.
Joe Biden doesn't have time for your questions. End of quote. He says he's going to run again in 2024.
BranDon's hot take: Ohio State will beat Michigan this weekend. Marc is still holding out for a miracle.
Social media is dumb but we're on Facebook, Instagram and Twitter (Drew and Mike Show, Marc Fellhauer, Trudi Daniels and BranDon).