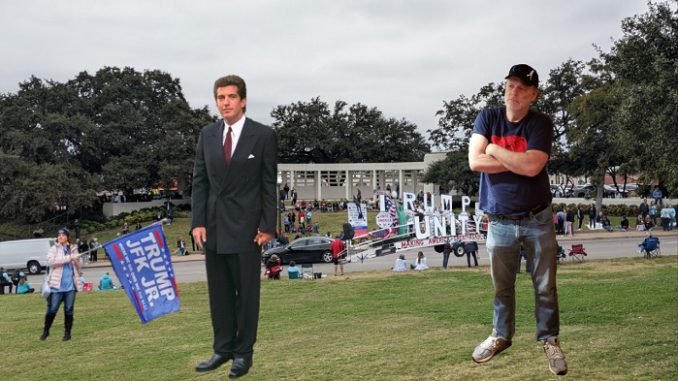 Podcast: Play in new window | Download (Duration: 2:35:01 — 142.4MB)
JFK Jr is back from the dead, NFL's Henry Ruggs III DUI, the Baldwin's won't shut up, Scotty Pippen is still mad at MJ, Drew Crime: Ed Kemper & the Suitcase Killer, and Pole Assassin's comfort-monkey attacks.
JFK Jr. missed his scheduled appearance in Dealey Plaza today to reinstate Donald Trump as President. Robin Williams and Dale Earnhardt made an appearance instead.
Drew Crime: The Suitcase Killer is free. Her complicit baby is on the loose with a strong murder gene. We remember when Michael Fay got caned in Singapore and then Weird Al made him famous. The worst mother possibly ever has been paroled. Ed Kemper is the tallest serial killer and little Pee Wee Gaskins is the shortest. Drew demands that Truth Serum be introduced to the investigation process.
There is a shortages of snow plow drivers this upcoming winter and we're all going to be buried in snow. Nobody wants to work.
NYC Vaccine Madness: No trash for you. No firefighters for you. Police, however, are getting the jab.
Las Vegas Raiders WR Henry Ruggs III was involved in a car accident and is being charged with DUI resulting in death.
We don't know who Kelly Dodd and Rick Leventhal are… but they are in trouble for dressing up like Alec Baldwin and a Native American for Halloween.
Not-A-Prince Harry and his beast Meghan were snubbed by the Queen, so they made the COP26 summit all about THEM.
MSU's victory over Michigan was the highest rated college football game of the year. Instead of himself, Jim Harbaugh blames the referees for the loss.
Watch out for Pole Assassin and her comfort monkey. GO LONGHORN'S! Check out the monkey's Instagram.
DaBaby has done the work. Dave Chappelle has not; according to a group that makes all decisions for the LGBTQA+ community.
Today is M.L. Elrick big day, as it's Election Day. He somehow finally found some time to join his own show today.
Bright Sheng's apology got him in trouble. The Michigan faculty wants him back… students don't. Stephen Shipps ruined it for everybody in his department.
Brittney Cooper has tenure so she can say anything she wants. Like the concept of time being racist.
Social media is dumb but we're on Facebook, Instagram and Twitter (Drew and Mike Show, Marc Fellhauer, Trudi Daniels and BranDon).