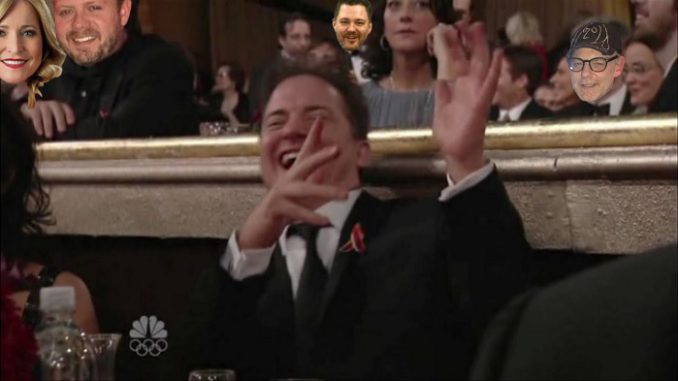 Podcast: Play in new window | Download (Duration: 2:52:25 — 158.3MB)
Brendan Fraser will never go to the Golden Globes again, University of Idaho murders, FTX & their celeb endorsers sued, Love is Blind Season 3, Trump's Presidential announcement, Taylor Swift breaks Ticketmaster, and the Metro Times names the "Best Podcast".
Drew Crime: The University of Idaho murders sure are a mystery. Shanquella Robinson has died in Cabo under mysterious circumstances. A bunch of bullet-ridden dead bodies wash up in Acapulco as tourists just hang in the water.
Larry David, Shaq, David Ortiz, Steph Curry, Tom Brady and Gisele Bundchen are among those being sued for their role in promoting FTX. Bill Clinton and Tony Blair loved SBF's crypto conference in the Bahamas. Cade Cunningham lost big with his crypto endorsement.
Donald Trump is back. He declares his candidacy for POTUS 721 days before the election. Claudia Conway is really sad and Trudi follows her on Twitter.
Brendan Fraser will never attend another Golden Globe celebration. Not because of that weird clap, but because he was once assaulted by the head of the Hollywood Foreign Press.
Local Crime: A shooting in Livonia that has absolutely zero details. Marco Bisbikis is busted and denied bond for the murder-for-hire of celebrity jeweler Dan Hutchinson.
That expensive unemployment system that cost the State of Michigan over $106 million is finally being scrapped in Michigan. Great investment.
Sports: MSU beats #4 Kentucky. Justin Verlander wants a 3-year, $130,000,000 deal. Larsa Pippen is nailing Michael Jordan's son. Isaac Humphries wants you to know he's gay. Mitchell Miller is blacklisted for being a bully and racist when he was 14 years old.
Social media is dumb, but we're on Facebook, Instagram and Twitter (Drew and Mike Show, Marc Fellhauer, Trudi Daniels and BranDon).