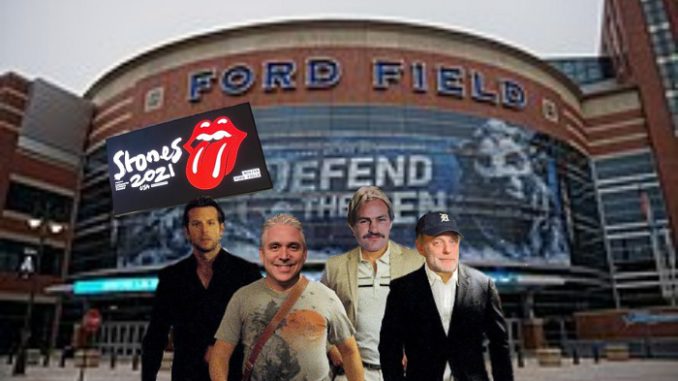 Podcast: Play in new window | Download (Duration: 2:35:14 — 142.6MB)
Drew's Rolling Stones review, Bloomfield Hills High School walkout, Mel Gibson's best acting job, Joe Biden v. Kamala Harris, Gary Graff checks in, Daniel Baldwin defends Alec, and Drew brags about his immunity.
The Rolling Stones played a packed show at Ford Field. Parking for Ford Field is the worst… unless you're Ben Franklin.
Drew had Rolling Stone adventures with Matt Shepard and his best friend in the whole wide world, Kirk Gibson.
Gary Graff joins us to break down the Stones, review the new Paul McCartney book, explain Metallica's 'Black Box', discuss Jack White's TWO upcoming albums and give his take on the Astroworld debacle.
Alec Baldwin: Baby brother, Daniel, comes to his defense. Daniel was also nude at the Plaza Hotel that one time… and was busted for grand theft auto… and finally on celebrity rehab. Another baby brother, Stephen, once tried to pick up Trudi with a business card. George Clooney gives his two cents about guns on a set.
Justin Fuente has been BLOWN OUT by Virginia Tech Tremendous School. Shane Beamer is pretending he doesn't want the job. Yeah, right.
Michigan Schools: Bloomfield Hills is apparently extremely racist. Every student in Detroit is suspended or not going to school. Port Huron teachers & students need a mental health day.
Drew has so much immunity that he's willing to sleep with a smallpox blanket and make out with Magic Johnson.
It sure doesn't seem that the Kyle Rittenhouse trial is going to unite anyone. The prosecutor can't do anything right except for aiming a gun.
Thomas Labuda brought his art to the studio and The Edmund to BranDon's house. He and Marcus are currently crushing the strip clubs along 8 Mile.
Around the US: New NYC Mayor Eric Adams takes on Black Lives Matter. Seattle police are a slow to the call. A Maryland Mayor is busted for revenge porn.
GMA and the Better Business Bureau let us know of the holiday scams. If you fall for these, you're an idiot.
Social media is dumb but we're on Facebook, Instagram and Twitter (Drew and Mike Show, Marc Fellhauer, Trudi Daniels and BranDon).