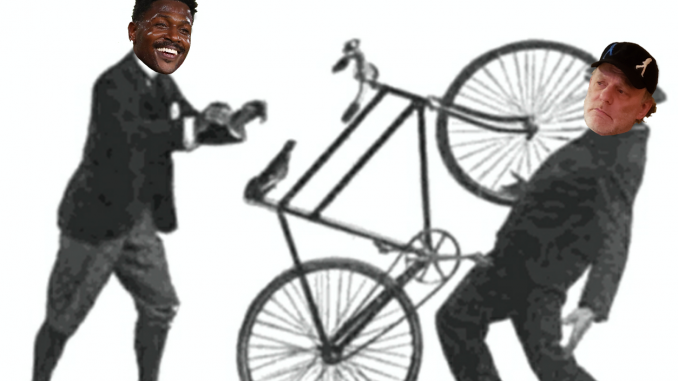 Podcast: Play in new window | Download (Duration: 3:21:57 — 92.6MB)
A new Antonio Brown police report, political vaccines, Obama on 60 Min, 90 Day Fiancé in Ethiopia, Simpsons take on podcasts, restoring your foreskin, and BranDon (& Marcus) try to defend his no-electricity day off.
Brandon describes losing power in southeast Michigan along with hundreds of thousands of DTE customers, but Drew and Marc wonder why that stops him from coming to work.
We check in with BranDon's neighbor/Chicken Master/ super guy, Marcus, to get confirmation on the difficulties of being without electricity.
Breaking ABNN: Antonio Brown got into another ruckus, this time with his gated neighborhood security guard. AB came armed with a blue bicycle.
Mike Valenti is always aggravated about the Detroit Lions and Drew is somewhat perplexed as well at how Patricia and Quinn continue to keep their jobs.
Donald Trump totally created a COVID vaccine and wants his due. Moderna's vaccine has everyone feeling great.
Rashida Tlaib is mad that the black neighborhoods did not have power. She cared very little for BranDon's conundrum. Drew checked out her Twitter page and was reminded of the Amani Al-Khatahtbeh arrest.
Wendy Williams is in constant contact with Blac Chyna and she thinks she sent a form letter out looking for a place to live.
Drew gets us up to date on 90 Day Fiancé. Amazingly it has some people that aren't very open to other cultures.
Scooter Braun sold Taylor Swift's music and somehow George Soros is involved. Paul McCartney and Taylor are best friends now and probably doing it.
Marc shows us a clip from an HBO show that shows the most comfortable man in the world as he restores his foreskin.
Mike Duggan addresses the COVID situation in Detroit and those damn non-mask wearing Oakland County bastards.
No one in congress cares about their constituents since we have all been waiting for our stimulus checks.
Barack Obama popped up on 60 Minutes to basically say nothing, but some people feel he'll be single any day.
Follow us on Facebook, Instagram and Twitter (Drew and Mike Show, Marc Fellhauer, Trudi Daniels and BranDon).