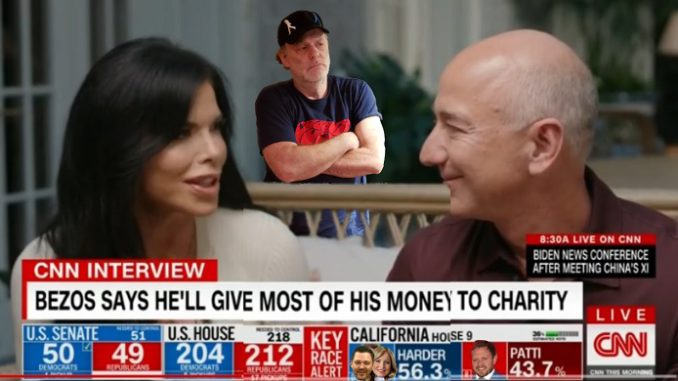 Podcast: Play in new window | Download (Duration: 2:50:35 — 156.6MB)
Jeff Bezos & Lauren Sanchez speak, University of Virginia football murders, Top 50 albums of the last 50 years, Gisele Bundchen's new dong, Detroit Lions commenter Barbara from Roseville, a trip through BranDon's prep, and 100-year-old Jack Poma recaps his birthday strip club trip.
Couples News: OF COURSE Pete Davidson is nailing Emily Ratajkowski now. Some people are saying Pete has a 'vagining rod'. Gisele Bundchen has moved on from Tom Brady's golden weiner to sit on her jiu-jitsu instructor's dong. Jeff Bezos and Lauren Sanchez discuss giving money away… as a 'couple'. How much will she dominate the interview like Melinda French-Gates?
Whining Hot Women: Nobody wants to love Donna D'Errico. Paulina Porizkova tells us that we almost lost Paulina Porizkova. Julia Fox needs more attention so she says she's old.
Grab your EXCLUSIVE NordVPN Deal by going to nordvpn.com/dams to get up a Huge Discount off your NordVPN Plan + 4 months for free! It's completely risk free with Nord's 30-day money-back guarantee.
BranDon's Prep: Aaron Carter died without a will. Kevin Smith is crying again. MTV paused Ridiculousness for a couple hours to air The EMA's. Farrah Abraham's face is expanding at an alarming rate. 6 airman killed in airshow collision. Jack Poma celebrated turning 100 by hitting the strip club. Baby Boomers are addicted to their cell phones. Cut it out, Boomers!
Mike Pence is finally upset about January 6th. Donald Trump is ready to make an announcement on Tuesday.
Books: Jemele Hill's memoir isn't doing so well. Michelle Obama is the top author in the country. Mike Pence's book looks incredibly boring.
The Anti-Defamation League is angry and SNL and Dave Chappelle. They should just watch The Potato Hole and laugh.
Social media is dumb, but we're on Facebook, Instagram and Twitter (Drew and Mike Show, Marc Fellhauer, Trudi Daniels and BranDon).