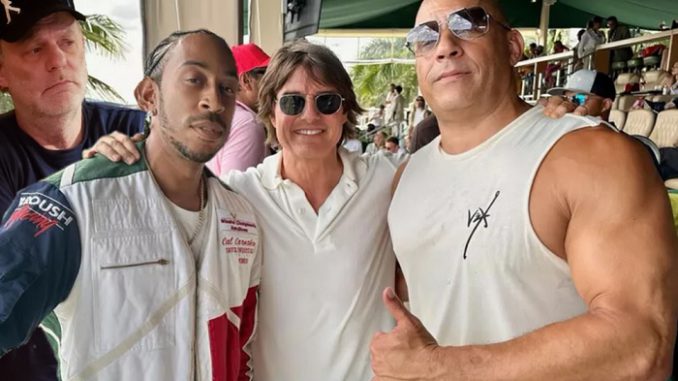 Podcast: Play in new window | Download (Duration: 2:51:27 — 157.4MB)
Vin Diesel never changes, King Charles Coronation concert, Michael Strahan's awkward defense of Tiger Woods, Jay Z's love child, the Mr. Methane of Japan, Mat Ishbia v. Nikola Jokic, Brazilian baby doctors are the worst, and the infamous Challenger Shuttle "transcripts".
West Virginia's Bob Huggins is in hot water for dropping a slur on the radio. He once threated the Drew & Mike Show for wire fraud.
Coronation Concert Coverage: Steve Winwood killed it. Lionel Ritchie sounded different. Katy Perry's boobs looked great.
The new Fox 2 ladies are making themselves at home and awaiting your enrollment in their armies. This is all the info you need to know.
Miami Gran Prix: Elon Musk hung out with a bunch of side-boob. Lauren Sanchez and Jeff Bezos flashed their nipples. Tom Cruise also had hard nipples while hanging with Shakira. Tom also tried to recruit Vin Diesel and Ludacris into Scientology. He also has a center tooth.
Grab your EXCLUSIVE NordVPN Deal by going to nordvpn.com/dams to get a Huge Discount off your NordVPN Plan + a Bonus Gift! It's completely risk free with Nord's 30-day money-back guarantee.
We've obtained the super-top secret exclusive transcripts of the final moments of the Challenger Space Shuttle. The same ones Mike Clark carried around in his briefcase for decades.
Divas: Taylor Swift's new boyfriend is a bit clingy. Britney Spears' book is on pause due to "lawsuit threats". Cardi B vs Tasha K and Cardi is taking the Fred Goldman route.
Drew Crime: Swatting is not nice. Trudi is on the Very Scary People train. Marc declares the Son of Sam to be overrated. Hinck-Dogg is keeping the dream alive of becoming a rock star.
Jamie Foxx is "stable", but you're still not allowed to know what is wrong with him. Some people are saying Jamie is already dead. Others are saying he's in 'Kirk Douglass shape'.
If you'd like to help support the show… please consider subscribing to our YouTube Page, Facebook, Instagram and Twitter (Drew and Mike Show, Marc Fellhauer, Trudi Daniels, Jim Bentley and BranDon). Or don't, whatever.