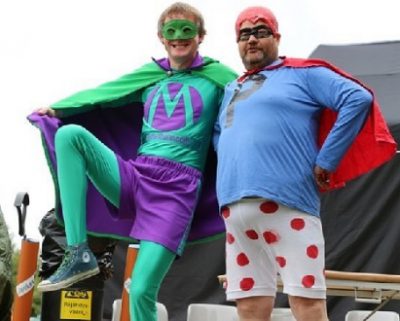 Podcast: Play in new window | Download (Duration: 2:34:21 — 88.8MB)
Trudi Daniels (@TrudiDan) & Marc Fellhauer (@MarcFell) are here today!
Our royal family expert Mr. Methane checks in, Chili's reviews DJ Jon Gosselin's appearance, Russia's plane crash had the worst passenger, a Jeff Bezos sighting, Sanjaya's dad on Justin Guarini and Game of Thrones dabbles in product placement.
Starbucks managed to snag a couple plugs in the most recent episode of GoT since everybody seems to have checked out for the final season.
Meghan Markle had her baby & it's a boy, which means Marc won his bet. The baby however is 7th from the throne, but 1st on the list of babies nobody cares about.
Dmitry Khlebushkin grabbed his bag & then stood at the emergency exit of a plane that was on fire demanding a refund for the inconvenient crash while 41 people died behind him.
After listening to the 911 call from David Eason shooting Jenelle Evans dog, Drew wants to create 911reference.com to catalogue 911 calls for your listening pleasure.
What ever happened to Justin Guarini? Turns out he's doing Dr. Pepper commercials & not homeless, but we give Sanjaya's dad a call to confirm.
Wendy Williams' ex-husband/manager is seeking spousal support so he can afford to pay for his new baby with some other chick.
Melinda Gates is starting to secure interviews sans old deadweight Bill who is busy running a very lucrative company.
Jeff Bezos & Lauren Sanchez made a public appearance at Emily's Pizza. We give the swanky pizza place a call to get more details on the story.
MacKenzie Bezos tweeted about how nice she was to give Jeff his stocks back after the couples conscious uncoupling.
In keeping with our comprehensive coverage of all things Jon Gosselin, we give Chili's a follow up call to see if it was poppin'. When he's not DJ'ing, Jon does shoutouts on Cameo.
Jenelle Evan's ex-boyfriend Nathan Griffith pulled a 'don't you know who I am?' when he made a 911 call to snitch on dog killer David Eason.
After Gayle King is done getting everyone kicked off CBS This Morning, she should try to secure Oprah as a cohost. Where's Stedman been lately?
Between Derek Jeter & John Mayer, Jeets has the better team photo winning 58% of the vote in our very scientific poll.
After what can only be described as a gross oversight, we manage to call Mr. Methane just before he turns in for the night to get his take on the royal baby & see if he's watching Game of Thrones.
Cops are investigating a house party thrown by Jake Paul after multiple girls were reportedly drugged during the celebration.
The new Bill Wyman documentary covers his marriage to a 13-year-old that nobody seemed to care about at the time.
Seattle Times writer Mike Rosenberg is being shamed out of his job after he made a creepy attempt to slide into some chicks DM's at 2am.
Tulsa, Oklahoma is so desperate for people to populate it that it's bribing potential residents with $10K to relocate.