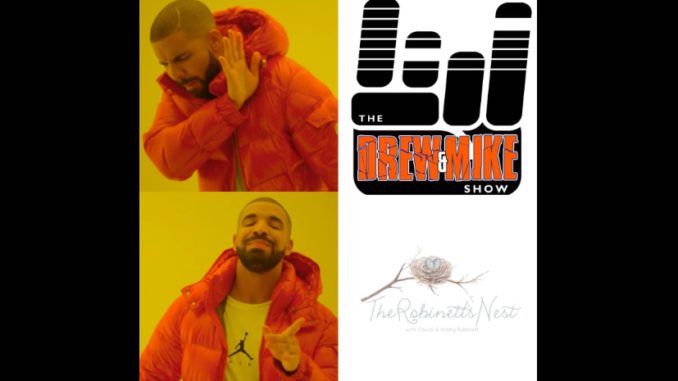 Podcast: Play in new window | Download (Duration: 2:35:09 — 142.5MB)
We're not #1 anymore, Brad Pitt's victory over Angelina Jolie, Casey Anthony's bar brawl, Jim Bakker says he was "canceled", Kim Kardashian fails the bar, and Maz & Darren McCarty join us.
Turns out we're only the second-best local podcast as The Robinett's Nest with Chuck and Kristy destroyed us in Hour Detroit's Best of 2021. Thanks a lot, audience.
Is Maz on today? Nobody knows. BranDon heard a rumor that Woodward Sports Network turned up on tv and gets lambasted for his efforts despite being somewhat correct.
Celeb Update: Brad Pitt scored a major custody battle victory over Angelina Jolie. Get out of here, Maddox. John Cena is still sorry. Sarah Silverman is super woke now. Seth Rogen is too despite his thoughts on cancel culture.
We got stiffed by The Backwards Dude. If you see him, tell him we said "Emit ruo gnitsaw rof sknaht".
Casey Anthony is in a love triangle. We try and call her favorite bar, but they didn't have any time for us.
Tom Mazawey Hot Takes: LeBron James vs Kristaps Porzingis, Tim Tebow has the best-selling jersey, Pro Football Focus hates the Lions, Hunter Dickinson may be NBA bound, and everybody fights over Drew's Tigers tickets. Chad Johnson jumps in to promote Woodward Sports and break they're latest signing.
Jim Bakker says he's a victim of "cancel culture"… in the 1980's. Some people have been taking notes.
Jake Paul is the 3rd highest paid boxer in the world. Reminder that Aaron Carter is going to get his ass kicked by Lamar Odom.
Social media is dumb but we're on Facebook, Instagram and Twitter (Drew and Mike Show, Marc Fellhauer, Trudi Daniels and BranDon).