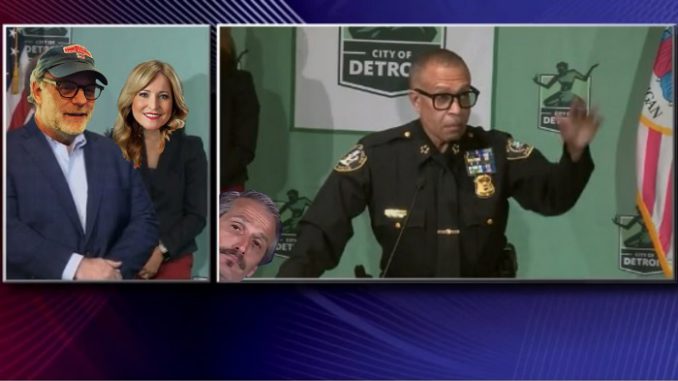 Podcast: Play in new window | Download (Duration: 2:40:47 — 147.7MB)
DPD Chief James Craig retires, Seth Rogen v. James Franco, Bill Gates divorce over Jeffrey Epstein, "COVID" murderer David Anthony, RIP Tawny Kitaen, and Tim Tebow's NFL return makes it time to call Tebow Superman Stu.
Remember "You're A Grand Old Flag"? Drew's been singing it for some reason. It takes us down a Tiny Tim rabbit hole.
Medina Spirit ate cough syrup-urine-soaked hay and it helped him with the Kentucky Derby. Matt Riley is in jeopardy of losing his big win… but he can always fall back on soccer.
James Craig is stepping down as Detroit Police Chief and expected to announce plans to run for Governor as the Republican candidate.
Vax Live aired this weekend leading BranDon to want the vaccine taken out of him. Drew coins the term "Marklecide".
Ted Williams' people need to get back to us so we can help him campaign for Governor of Ohio. UPDATE: Ted has already BAILED on the people of Ohio.
Melinda Gates continues to pile on Bill Gates as it's leaked that his friendship with Jeffrey Epstein lead to the divorce. We learn that nerdy Bill is actually a party-boy, Steve Ballmer gets dragged into the divorce and check out Bill's vertical.
Drew Crime includes the sexual assault debacle at EMU, covers the murder of Gretchen Anthony that was blamed on Covid, and 20/20 featured the murder of little girl Riley Fox.
Tim Tebow is getting a second shot in the NFL. We check in with our main man from Detroit Sports 105.1, Stu (Shoe?). Bring back Jags-Tebow.com!
Washington Nationals broadcaster, F.P. Santangelo, is in hot water over sexual misconduct allegations.
Social media is dumb but we're on Facebook, Instagram and Twitter (Drew and Mike Show, Marc Fellhauer, Trudi Daniels and BranDon).