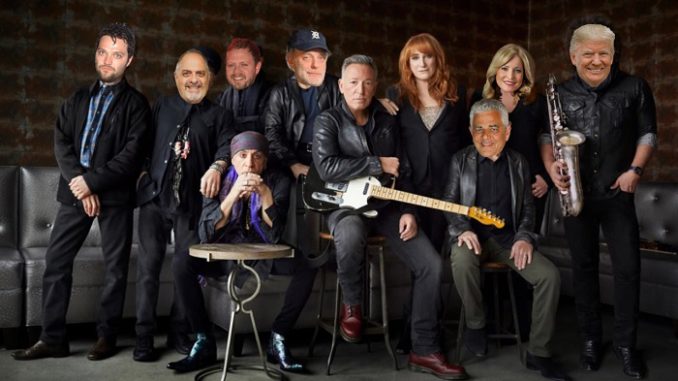 Podcast: Play in new window | Download (Duration: 3:11:48 — 154.1MB)
97.1's Stoney joins us to talk Bruce Springsteen at LCA, Bam Margera is drunk again, we interrupt Tom Mazawey's bowling night, Flo Rida's Father of the Year Award, Ace Frehley strikes back, and former president Donald Trump indicted.
Music: KISS announces their VERY LAST Detroit appearance EVER! Ace Frehley is sick of Gene and Paul talking shit all the time. Metallica, Guns N' Roses, Ozzy Osbourne, AC/DC, Iron Maiden and Tool are headlining the Power Trip Festival.
97.1's Mike Stone joins the show to recap his 27,792nd (approximately) Bruce Springsteen concert. Some people are saying he's a super-fan.
Grab your EXCLUSIVE NordVPN Deal by going to nordvpn.com/dams to get a Huge Discount off your NordVPN Plan + a Bonus Gift! It's completely risk free with Nord's 30-day money-back guarantee!
Bonerline Alert: The Bonerline is now on our YouTube channel. You can go there now and listen to it NOW or wait until Sunday to hear it on the show. Call or text 209-66-Boner!
Politricks: Donald Trump is benefitting from the grand jury coverage and is now beating Ron DeSantis in the polls. The QAnon Shaman has been released from prison after serving 27 of 41 months. Kamala Harris had a fantastic trip to Ghana. Breaking News: The New York Grand Jury has decided to indict former president Donald Trump.
Flo Rida's son fell out of a 5-story window. The baby mama is looking to get the kid's medical bills paid.
Tom Cruise may be a worse parent than Flo Rida. Nicole Kidman remains happy that she is a suppressive person and doesn't have to deal with Tom anymore.
Tom Mazawey joins the show mid-bowling to preview the start of the Tigers season, the upcoming Lions practices, the Lions potentially leaving Allen Park, his March Madness predictions, women's March Madness > NBA and much more.
If you'd like to help support the show… please consider subscribing to our YouTube Page, Facebook, Instagram and Twitter (Drew and Mike Show, Marc Fellhauer, Trudi Daniels, Jim Bentley and BranDon). Or don't, whatever.