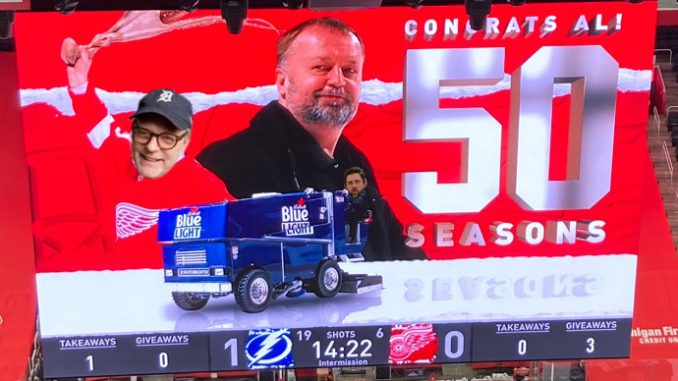 Podcast: Play in new window | Download (Duration: 2:46:43 — 134.0MB)
Red Wings fire Al Sobotka, Will Smith wouldn't leave, DJ Jazzy Jeff 'no comments' us, free QLine rides, from Secrets of Playboy to Thousand Pound Sisters, Trevor Bauer sues journalists, and Bruce Willis retirement phony phone calls.
More Will Smith/Chris Rock Silence Breaking: King Richard Williams' estranged daughter speaks. The 'Tell The Truth" CTE doctor supports Will. David Spade & Dana Carvey speak. Chris Rock adds more shows to sell out. Wanda Sykes and Amy Schumer are "traumatized".
Al Sobotka has been BLOWN OUT by the Detroit Red Wings. We check in with Al, who sounds really bummed out. Jim Bentley joins the show to tell an Al Sobotka story and brag about his farts in our system.
Bruce Willis is retiring from acting due to Aphasia. We remember a few prank phone calls in his honor.
Taylor Hawkins: The Foo Fighters cancel their tour dates. John Stamos shares his last texts with Taylor. Paul McCartney shares a pic. Jimmy Page is bummed, but they'll always have this song.
The Detroit News wants you to feel that Kid Rock's album has bombed when the truth is, it's a little early. Some people are saying Adam Graham is focusing on politics.
Breaking News: Will Smith refused to leave the Oscars after he assaulted Chris Rock. The Oscars and the BAFTAs are beefing. Tony Rock does NOT accept Will Smith's apology. DJ Jazzy Jeff gives us no comment.
Drew Crime: Drew declares Wendi Mae Davidson the hottest murderer possibly ever. We roll through the hottest female murderers. We discuss Life of Crime 1984-2020.
Social media is dumb, but we're on Facebook, Instagram and Twitter (Drew and Mike Show, Marc Fellhauer, Trudi Daniels and BranDon).