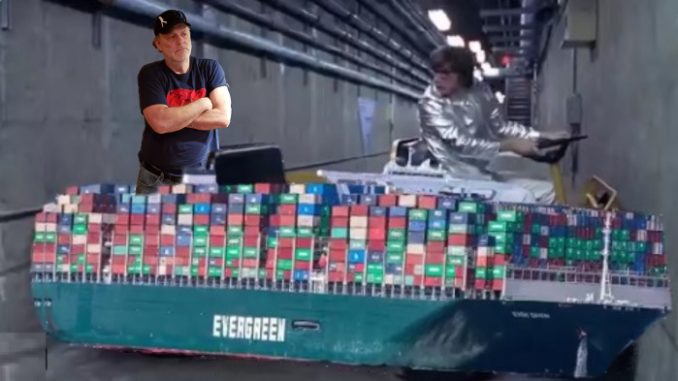 Podcast: Play in new window | Download (Duration: 2:43:01 — 149.7MB)
Suez Canal jammed up, President Biden finally has a presser, Chrissy Teigen quits Twitter, Bagel Karen, Michigan man's missing girlfriend, a new Bonerline, Drew Crime, and BranDon & Marcus' wild night.
Tom Mazawey decided to finally release the name of the secret February winner of the Legacy drawing.
Inside Edition is shaming people for not spending their stimulus money the way they want you to spend it. Knock it off, fun governors.
Joe Biden had his first press conference and pulled a Donald Sterling. He also set up Biden v. Trump II: Electric Boogaloo.
A boat is blocking the Suez Canal. It made sure to draw a penis and butt before ramming itself into a tight space. QAnon has it all figured out and, spoiler alert, it's Hillary Clinton's fault.
Somebody crashed their car into BranDon's neighbor Marcus' house and left the scene of the crime. Detective BranDon is on the case.
Twitter declared David Lee Roth to be the famous person jamming to Paul McCartney and Ringo. Listener Sean is a great sleuth.
The Rose Room at 220 in Birmingham is in hot water after several patrons were reportedly drugged while drinking at their facility.
New TV: A Jeffrey Dahmer Netflix series and a new John Wayne Gacy documentary.
Michigan Republicans want to pay prosecutors extra to investigate Gretchen Whitmer's nursing home policies. Democrats aren't happy.
Social media is dumb but we're on Facebook, Instagram and Twitter (Drew and Mike Show, Marc Fellhauer, Trudi Daniels and BranDon).