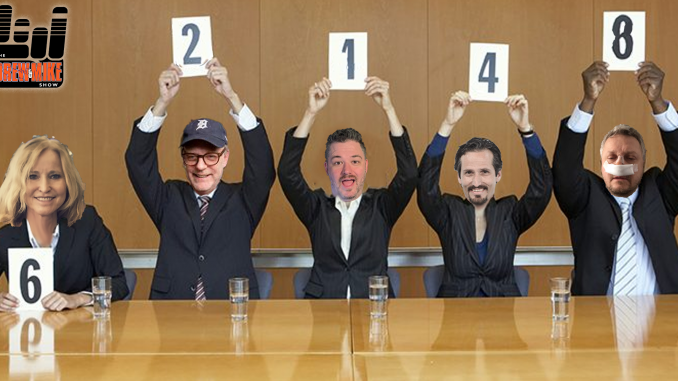 Podcast: Play in new window | Download (Duration: 2:41:43 — 74.5MB)
Trudi Daniels (@TrudiDan) & Marc Fellhauer (@MarcFell) are here today!
Drew assigns RSN members a COVID-19 contagion number, more celeb Coronavirus PSAs, Menards is in trouble, Ted Williams is now a doctor, we call Harvey Weinstein's new home and we check in on Count David Wimp.
The cool thing about celebrities sharing home videos while in quarantine is that you can get a sneak peek into their homes.
All the late night talk shows are doing a small part from home including Jimmy Kimmel, Jimmy Fallon and Stephen Colbert.
Drew is ranking Red Shovel Network employees for their contagion factor & there is a very wide spread between everybody.
CVNN business news: The airline bailout better be a loan or Drew doesn't know what he'll do. The Vegas casinos are asking for a bailout despite their license to print money. The beaches in Florida are finally closed.
Mesa took a big hit on St. Patrick's Day & Cinco De Mayo is looking rough, but curbside to go is LIVE & rocking!
Chris Cuomo interviewed his brother, New York Governor Andrew Cuomo & wrapped it up with an unfunny family moment.
Drew attempted to get the word out to Bob Geldof about a potential Corona-Aid concert, but ended up tweeting it to some FAKE account that hasn't tweeted in years.
Vanessa Hudgens respects the Coronavirus, but she thinks the CDCs assessment of the situation is BS.
Some influencer by the name of Arielle Charnas used her Coronavirus diagnosis to promote her brand & channel.
Celebrity Coronavirus PSA: Michael Stipe's PSA included 4 important things to remember & a plug for his website. Bono forced his music on Italy & the internet as his own way of doing a Coronavirus PSA. Chet Haze continues to capitalize on his parents COVID-19 diagnosis by releasing more hit tunes. Matthew McConaughey got very deep while shooting his PSA that was loaded with fluff. Paris Jackson's PSA was drowned out by a siren blaring in the background. Commencement ceremonies are cancelled, but Ted Williams is getting an honorary doctorate & bragged about it during his Coronavirus PSA.
Dr. Drew mixed it up with known anti-vaxxer Rob Schneider about some good ol' fashioned pandemic denying on his latest podcast.
We check in with friend of the show Count David Wimp to find out how he's doing & get some advice on how to handle the pandemic.
Oprah was trending on Twitter last night after QAnon spread a story that she had been arrested for her part in a sex-trafficking operation.
Ross Ulbricht, aka Dread Pirate Roberts, from the Silk Road is seeking a pardon from President Trump.
It looks like Tom Brady & his production company are headed to the Tampa Bay Buccaneers, but it's not to be closer to his son.
Jared Leto woke up from a silent retreat in the dessert & was totally bummed out to find the world in disarray when he awakened.
Miley Cyrus did a throwback bully post to explain why she couldn't wear shorts or a bathing suit in public for years after doing a video with Robin Thicke.
Lala Kent & Randall Emmett from Vanderpump Rules are postponing their wedding due to COVID-19 & they felt like they needed to tell people they didn't invite.
Kevin Ryder, the remaining portion of the Kevin & Bean show from KROQ, was BLOWN OUT & escorted out of the building by security.
A case of Coronavirus has been confirmed at Rikers Island, but Harvey Weinstein is nowhere to be found.