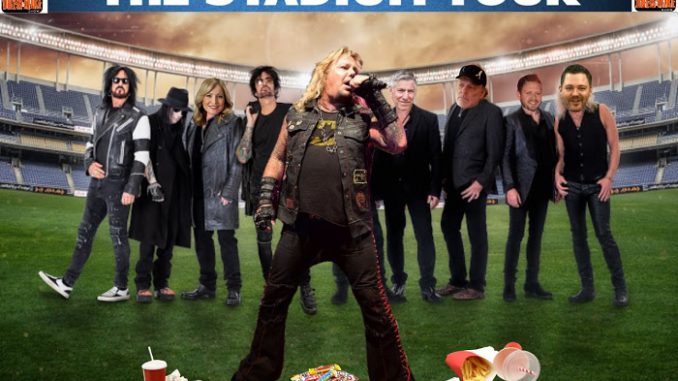 Podcast: Play in new window | Download (Duration: 3:14:40 — 156.4MB)
Motley Crue on tour, avoiding abortion, Rudy Giuliani assaulted by a back slap, Unrivaled: Red Wings v. Avalanche, Ben Affleck kid's car crash, Eli Zaret stops by, waiting for the Detroit Fireworks, Danny Bonaduce's mystery illness, and Drew's wild weekend.
Wild Weekend: Matt Riley's 60th birthday bash. Todd Rundgren killed it… and then totally made up with Trudi. Paul McCartney headlined Glastonbury, but some people are saying Dave Grohl ruined Band on the Run. Robert Plant bored everyone by bringing Alison Krauss. The Rolling Stones played Hyde Park. The Motley Crue tour is a disaster and Vince Meal is terrible.
Eli Zaret drops by to discuss ESPN's Unrivaled, the Colorado Avalanche Stanley Cup Champs, the crappy Detroit Tigers, the Detroit Pistons' draft, $10M NIL deals, Deshaun Watson's arbitration, the Houston Texans new lawsuit and much more.
Movies: Top Gun: Maverick earns $1B. The new Elvis movie tied TG for first place this weekend. Some people are saying Jurassic World: Dominion sucks.
Danny Bonaduce is trying to bounce back from his mystery illness. SIST: Is anyone out there "running around with red hair and grey pubes?".
Ben Affleck's 10-year-old is already crashing Lamborghinis. We call the car rental agency that is supporting Ben's story.
Drew continues to lament Chelsea Handler. He also can't understand how a podcast with 500,000 views on YouTube has only 15 podcast reviews.
Roe v. Wade: Billie Joe Armstrong is done with America. Chicks are stocking up on Plan B. Madonna doesn't know how to support her grandbabies if her kids get knocked up. Full House's Jodie Sweetin got roughed up during a protest. Olivia Rodrigo is angry. A lot of people got racist on the internet because of Clarence Thomas and the SCOTUS ruling.
Grab your EXCLUSIVE NordVPN Deal by going to nordvpn.com/dams or use the code dams to get a HUGE Discount off your NordVPN Plan + 1 additional month for free + a bonus gift! It's completely risk free with Nord's 30-day money-back guarantee!
Build Back Better is going great. Everything is totally built, back and better than they were before. A Joe Biden voicemail has been leaked from Hunter's laptop.
Social media is dumb, but we're on Facebook, Instagram and Twitter (Drew and Mike Show, Marc Fellhauer, Trudi Daniels and BranDon).