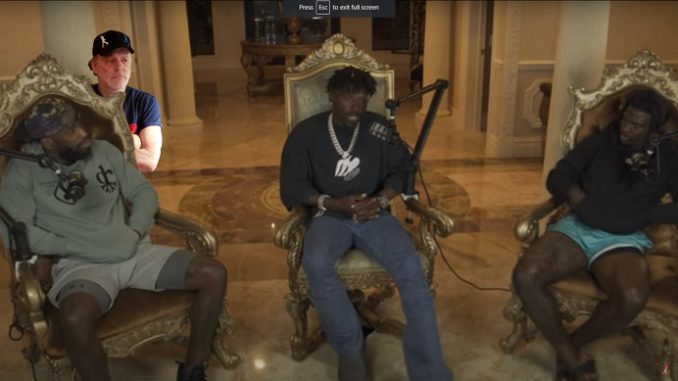 Podcast: Play in new window | Download (Duration: 3:04:07 — 169.0MB)
Excuse maker Antonio Brown joins Tyreek Hill's podcast, We See It Eli Zaret's way, Rosie O'Donnell wants to #FreeMenendezBrothers, Hillsong is another massive church grift, the worst charities in the US, and we talk to John Wayne Bobbitt on his penis-cut-off Anniversary.
Eli Zaret drops by to discuss the crappy Detroit Tigers, the Michigan Panthers big OT loss, the Detroit Pistons 2023 draft, College World Series highlights, Donald Trump's golf boasting, Joe & Dr. Jill's major soccer announcement, Eli vs Pride Month, the NHL vs Pride Month, the Detroit Lions new helmet and more.
The Titanic has claimed 5 more lives and James Cameron has broken his silence. Like it could have been a bunch of people. The worst stepson seems to have always been a menace.
Dukakis Moments: Willow Smith may have sunk Jim Bentley's campaign. Tom Mazawey is accused of lying about Lili's 'three-on-a-tree' transmission.
It's the 30-year anniversary of John Wayne Bobbitt's weiner leaving his body. We chat with John live from the road to get the "real story".
Hags: Nicole Eggert. Heather Locklear. Carly Simon. Lauren Sanchez. Elizabeth Hurley (and her son). Kari Lake.
Royal Jerks: Taylor Swift refused to be on that beast Meghan Markle's podcast. Netflix has given the royal losers an ultimatum. Prince Harry's content ideas are stupid.
Hillsong: A Megachurch Exposed on Max shows that it's a major grift even outside of Justin Bieber's "hot" preacher.
Judge Kahlilia Davis is in more trouble and may be the worst judge possibly ever. Some people are saying she will run for election in the future.
The Rattletrap was sighted and we got a shoutout. It turns out Rob Cortis' buildings are rattletraps as well.
The Wagner mercenaries stirred up a possibly coup in Russia, but then decided it would be easier to go to Belarus.
Hunter Biden went from federal plea deal to state dinner. IRS whistleblowers are spilling on Hunter. A leaked WhatsApp message is causing problems. It's just a complicated situation, right?
Kadia Iman defends herself following her viral video of ripping a microphone out of a woman's hands. She's also an OnlyFans star.
Stuttering John is playing games with an apparent interview WATP. We'd post the tweet, but we're blocked from following him on Twitter for offering him money.