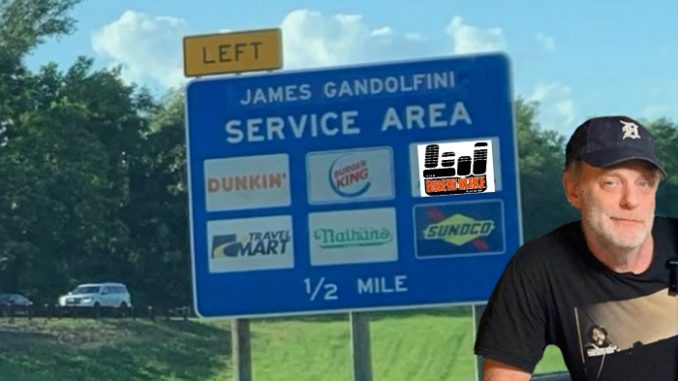 Podcast: Play in new window | Download (Duration: 2:52:58 — 139.0MB)
David Trumpp on New Jersey's new celeb rest stops, director Paul Haggis' new rape allegations, biker Colin Strickland breaks his silence, Alex Murdaugh hates jail, Sami Sheen's OnlyFans, a beer recall, and we check in with Neighbor Marcus to celebrate Juneteenth.
Someone noticed that James Gandolfini has been honored by the New Jersey Turnpike. You know who we have to call for comment.
Happy Juneteenth! Some people have the day off, but a lot don't. We check in with BranDon's neighbor Marcus to see if/how he's spending the day.
We've graduated from out USA listener map (only missing Utah) and have moved to our World Map Spectacular. If you live or knows someone who lives in a different country let us know.
The latest polls show Americans feel Donald Trump should be charged for the January 6th Capitol breach.
Former Scientologist and film maker Paul Haggis has been arrested in Italy on sexual assault charges. This leads to a replay of Million Dollar Baby Cliff Notes Theater.
Grab your EXCLUSIVE NordVPN Deal by going to nordvpn.com/dams or use the code dams to get a HUGE Discount off your NordVPN Plan + 1 additional month for free + a bonus gift! It's completely risk free with Nord's 30-day money-back guarantee!
JLo wants you to know her daughter's pronouns. JLo also wants you to know her mother abused her. JLo additionally wants to pretend that Ben Affleck is the best father ever.
Cyclist Colin Strickland breaks his silence with The Sun and he sounds like a complete jerk. Kaitlin Armstrong remains on the run.
Tom Mazawey reveals the May winner of the Legacy gift card! Congrats to _____________!!! Christina Gennari makes a surprise cameo appearance.
Listeners are emailing and calling the Bonerline to tell us the dumb things they thought when they were little kids (à la Drew believing Mount Rushmore was a natural phenomenon).
Alex Murdaugh prison phone calls have been released. He's not having fun, but he finally has his own TV remote.
Social media is dumb, but we're on Facebook, Instagram and Twitter (Drew and Mike Show, Marc Fellhauer, Trudi Daniels and BranDon).