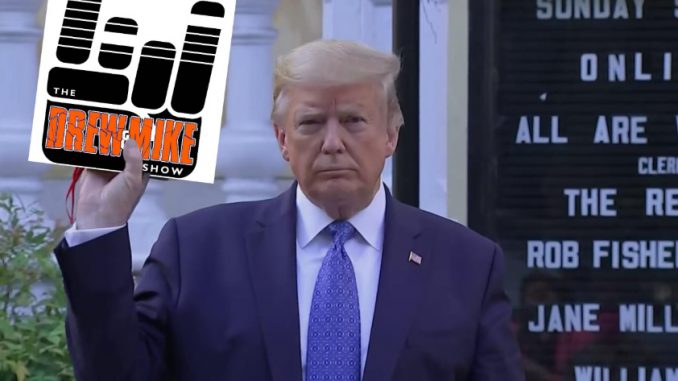 Podcast: Play in new window | Download (Duration: 2:36:49 — 71.9MB)
President Trump's photo op, more celebs are being "canceled", Hong Kong steals Drew's idea, a new Bonerline, and a kid injects himself into the George Floyd murder story to say "it could have been me".
Jimmy Fallon is so super sorry for wearing blackface 20 years ago that he's punishing his viewers so he can learn a lesson.
Lea Michele tried to tweet support for the protesters, but got called out by a Glee co-star for being mean. She lost her HelloFresh deal that no one knew she had.
A Fox News Reporter was praised for his coverage on the protests… until a podcaster reveals that he spit on her in high school.
The Detroit Popcorn Company's owner made some questionable posts on social media, lost his contract with the Detroit Zoo, and then had to sell the company to the previous owner to keep it going.
A Wendy's franchisee donated to President Trump and now #Wendysisover until people remember that they want a Frosty.
A New York trophy wife socialite proves once again that no one can let anything go as she calls 911 on someone in the park.
A 16-year-old Detroit teen is what we need during the protests. He moved Mike Duggan to tears after the kid calmed the protesters Monday night.
Who had a better photo op at church? Joe Biden or Donald Trump?
Police in New York, police in Buffalo, police in St. Louis, police in Las Vegas and in many other cities have been hurt during the protests.
A listener dialed into the Bonerline with a pretty good Drew Lane impression. Manscaped brings you an audio-separated-at-birth Bonerline today.
Jim Harbaugh attended the protest in Ann Arbor as freshman prepare to report to campus on June 15th.
Separated at birth: the Denver Police Chief and Greg Louganis.
A "man" claims that former officer Derek Chauvin stopped him after a nerf gun fight at age 17. He's basically saying "Like, that could've been me".
Follow us on Facebook, Instagram and Twitter (Drew and Mike Show, Marc Fellhauer, Trudi Daniels and BranDon).