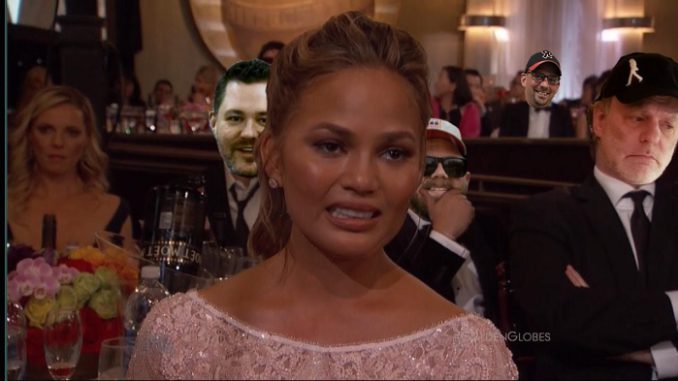 Podcast: Play in new window | Download (Duration: 2:28:15 — 136.2MB)
Hypo-Chrissy Teigen is over, Jim Brandstatter defends Bo, new Cameos don't include Dave Portnoy, no one understands Gov. Whitmer's back to work bonus, and WATP Karl joins us for a podcast roundtable.
Hypo-Chrissy Teigen is called out again and this might be the final nail in the coffin. Michael Costello of Project Runway speaks out. Jon Warach speaks out as well. Everybody is speaking out. GET OUT NOW, JOHN!
Karl from WATP dials in to trash Stuttering John (as usual), dive into "top 20 podcast" The Kelly Osbourne and Jeff Beacher Show, critique a Scrubs podcast , talk soccer with Marc, and get us up to speed on The Howard Stern Show… of 2021.
Ever heard of Kevin Ware? Not THAT one, this one. He might have killed somebody earning him the title of "ex-NFL player".
We lost the internet again. BranDon keeps his cool and does not pop off on Comcast like he did yesterday.
Gretchen Whitmer wants to pay $300 to people to get back to work, but no one understands the formula.
The soft ex-players on Detroit Mercy's female basketball team get their wish as AnnMarie Gilbert is leaves the school.
The Dr. Robert E. Anderson scandal is now the Bo Schembechler scandal thanks to Matt Schembechler and Jim Brandstatter. Former players will meet Wednesday morning for a press conference.
BranDon has your update on the latest celebrities who have joined the Cameo family. Sadly, no one new has signed up for HiNote.
Social media is dumb but we're on Facebook, Instagram and Twitter (Drew and Mike Show, Marc Fellhauer, Trudi Daniels and BranDon).