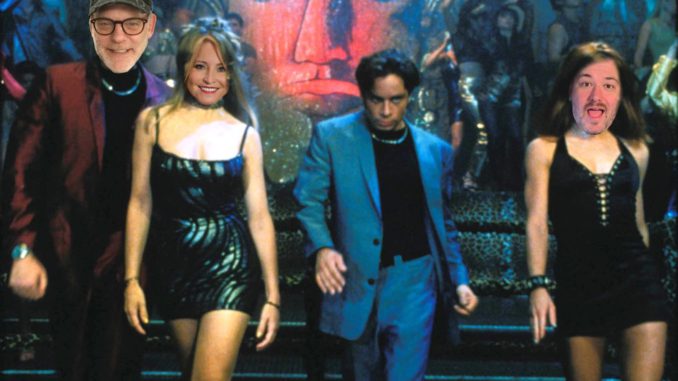 Podcast: Play in new window | Download (Duration: 3:02:32 — 418.2MB)
Feud talk with Chris Kattan, Carlos Santana's Pine Knob collapse, Bobby Crimo confesses, Tim Allen's boat spill, Tigers can't find Eduardo Rodriguez, fat shaming guys, breaking Stuttering John news with Karl & Elisa Jordana, and Trudi saves Drew's life.
Mark Ridley's Comedy Castle has some good shows coming up. Chris Kattan is coming at the end of the month and Craig Robinson is there this weekend.
Trudi saves Drew's life by killing a spider that was about to attack his head.
Some people are saying that Kaitlyn Armstrong's mistake while on the run was that she got little to no dong in Costa Rica.
The Illinois 4th of July parade shooter Bobby Crimo confessed. He also added that he was plotting a second attack in Madison, Wisconsin. He's also separated at birth with Emo Phillips.
Chris Kattan calls in to talk up his show on July 31st in Royal Oak. Marc tries to dig into his feuds, but Chris is too mature.
Grab your EXCLUSIVE NordVPN Deal by going to nordvpn.com/dams or use the code dams to get a HUGE Discount off your NordVPN Plan + 1 additional month for free + a bonus gift! It's completely risk free with Nord's 30-day money-back guarantee!
The Detroit Tigers on a roll with a 4 game sweep the Cleveland not-Indians-now-Guardians. Meanwhile, Al Avila just cannot get a hold of their big off season signing Eduardo Rodriguez since he took time off for a "marital issue."
Carlos Santana collapsed during his Pine Knob show. Despite being told not to take pictures almost everyone at the show did.
John Hinckley Jr's media tour continues as he was on Nightline. He's pro gun control for people with mental illness. He's also very upset that they cut the songs he performed live.
Britney Griner's wife is super mad that Joe Biden hasn't called her… so President Biden gave her a ring.
Michael Jackson's estate pulls 3 songs from streaming services. It's totally not about the current litigation about those songs.
The Detroit Police are fed up with judges letting everyone out. Especially one guy who was released on his own recognizance after 5 tether violations.
A smoke shop employee was fat-shamed for wearing a crop top to work exposing her stomach. Now the whole world knows about it.
Social media is dumb, but we're on Facebook, Instagram and Twitter (Drew and Mike Show, Marc Fellhauer, Trudi Daniels and BranDon).