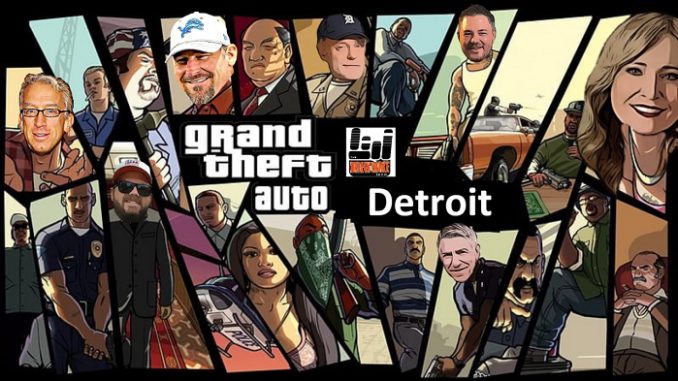 Podcast: Play in new window | Download (Duration: 3:10:16 — 152.9MB)
An odd appearance by Andy Dick, Eli Zaret joins us to recap the Detroit Lions victory, Top 200 Singers list, not-a-prince Harry's media tour, influencer Olivia Dunne causes a boner outbreak in Utah, and we go in search of a eulogy for Adam Rich.
We See It Eli's Way on the Detroit Lions great season-ending victory over the Green Bay Packers, his guest column with WDIV, excessive Damar Hamlin coverage, angry Michael Strahan, MSU's basketball win over Michigan, yell at gambling websites again, Quay Walker's assault (and subsequent tears), Blake Corum's return to Michigan, Jim Harbaugh exodus speculation, and rip on the Detroit Tigers one more time.
Not-a-Prince Harry did 3 major TV interviews today to blame everyone for his problems. The Taliban want him tried for war crimes.
Drew Crime: Another husband BUSTED for murder. It's always the husband. Bryan Kohbooger's dad had to clean up after the SWAT Team that raided their house. Johnny Depp's hot lawyer has been hired by NBC as a legal analyst.
Canadian reporter Jessica Robb had a medical issue on live TV, so the anti-vaxx community attacked her without any information.
Brian Koestering and his pals won some big cash thanks to the Detroit Lions and we're looking to hear all the details.
We reconnect with a slightly altered Andy Dick and he slurs his way through explaining what he's been doing lately.
Drew's New Twitter Goal: Screech is in the rearview mirror. Drew MUST pass Adam Rich. We SCOUR the rolodex to find ANYBODY to eulogize Adam Rich.
Grab your EXCLUSIVE NordVPN Deal by going to nordvpn.com/dams to get up a Huge Discount off your NordVPN Plan + 4 months for free! It's completely risk free with Nord's 30-day money-back guarantee.
That VaTech soccer player who got benched for not kneeling during the National Anthem gets $100k in settlement.
Jen Shah of The Real Housewives of Salt Lake City is sentenced to 6.5 years in prison for wire fraud.
Lists: The Top 200 Singers of All-Time. Spoiler Alert: No Whites crack the top 10. Celine Dion SNUBBED. 50 Greatest Rhythm Guitarists of All-Time. Top 20 one-hit wonders from the '90s… by Rick Beato.
Social media is dumb, but we're on Facebook, Instagram and Twitter (Drew and Mike Show, Marc Fellhauer, Trudi Daniels and BranDon).