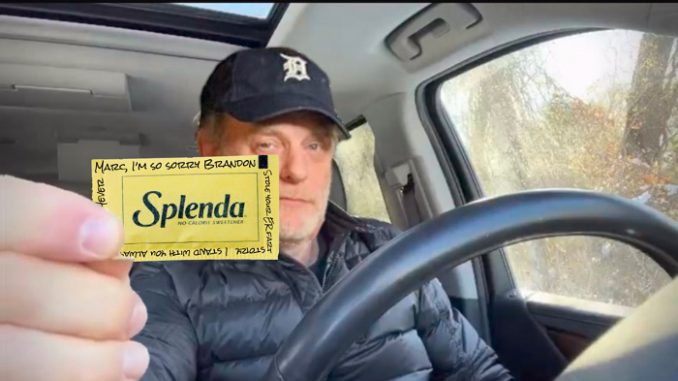 Podcast: Play in new window | Download (Duration: 2:56:57 — 142.2MB)
Alec Baldwin's Splenda found, breaking Antonio Brown news, Detroit Lions win upsets fans, creepy Rep. Lee Chatfield, RIP Sidney Poitier, Jared Fogel's ripped, new Cameos, and #BlockParty Maz checks in.
The Detroit Lions wrap up the season by blowing the 1st overall pick and beating the Green Bay Packers with trickeration. Some fans were upset at their team winning.
Jim Harbaugh "will entertain NFL possibilities". Some people (Michigan haters) want him to make up your damn mind.
ABNN: Antonio Brown is bad at sex. AB popped up on the Full Send Podcast. AB's brother weighs in. AB is signing vaccine cards.
Kyrie Irving returned to the NBA. He's available for games not in New York or Canada. Some people want the Nets rival cities to pass the same laws just so he can't play.
Ava Louise is famous for licking toilets, banging Antonio Brown and releasing private messages from Kendall Jenner's boyfriend.
Novak Djokovic is locked away in Australia because he's good at hitting tennis balls and doesn't like the laws of another country.
Oregon State blew up their stadium. A "cold shower" tried to virtue signal, but was appropriately responded to by others.
Zendaya, Willow Smith, and Kiernan Shipka went full Gal Gadot and made an awkward tribute to David Bowie.
Alec Baldwin's 2022 is off to a great start because his Splenda packet was "found". He also wants you to know he hasn't turned his phone because he doesn't legally have to even though he could just give it to law enforcement.
We check in with Tom Mazawey after we learned he's blocking everybody on Twitter. Tom has blocked 330 accounts.
The Ski lift "car wash" catastrophe is funny even though the girl involved wants you to stop laughing at the video.
Alex Jones made $165,000,000 in just 3 years selling Doomsday Prep stuff while talking about make believe stories.
Demi Lovato wants you to know that they are out of rehab for the third time. Check out they's stupid new tattoo. They've also podfaded.
Social media is dumb but we're on Facebook, Instagram and Twitter (Drew and Mike Show, Marc Fellhauer, Trudi Daniels and BranDon).