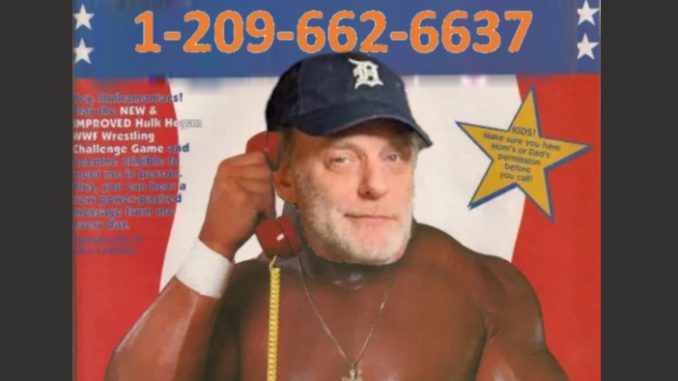 Podcast: Play in new window | Download (Duration: 2:54:57 — 160.6MB)
The Playboy Murders & Playboy's 900 number, found penis at a gas station, Jared Goff: NFL Pro Bowler, Flavor Flav's crack usage & verbal crutches, RIP Cindy Williams, and we try some new celebrity phone numbers we received.
Sports: Detroit Sports 105.1 ruined some of our love of sports. Greg Wyshynski and others want everyone to know about the bad things done by Bobby Hull. Deadspin has the same hot take. Bobby Hull was ripped. The Albany State football coach is already sorry for offering a scholarship to "racist" Marcus Stokes. Jess Gardner could be the next Olivia Dunne. Dak Prescott's new girlfriend is pretty hot. Chatham-Kent got a new baseball team called the Chatham Blackbirds, but some find the name racist and they have to change it. Lenny Dykstra shows us a very nude Eagles fan with a tiny mushroom (NSFW). Other Eagles fans made fools of themselves as well. Khary Crump is handed his punishment for Tunnelgate.
Travis Barker & Shanna Moakler's daughter is in trouble for using her Black friends as TikTok props… and for "promoting" Percocets.
Police Shootings: Memphis has fired more officials in the wake of Tyre Nichols' death. The funeral is going to be star-studded. California police shoot a dude running away… with NO LEGS. MTG wants justice for Ashli Babbitt.
Jared Goff is a Pro Bowler. In your face, Barbara. But then again, Tyler Huntley is a pro bowler too.
Drew Crime: "Death by Fame" covers the sad tale of Johnny "Half-Sack" Lewis. The Playboy Murders featured the death of Playmate Stacy Arthur's husband, James.
Grab your EXCLUSIVE NordVPN Deal by going to nordvpn.com/dams to get up a Huge Discount off your NordVPN Plan + 4 months for free! It's completely risk free with Nord's 30-day money-back guarantee.
We try the old celebrity rolodex starring Amber Heard, Caitlyn Jenner, Rob Gronkowski and OJ Simpson.
Alec Baldwin has been officially charged in the death of Halyna Hutchins. Hilarious Baldwin responds on her crappy podcast.
Social media is dumb, but we're on Facebook, Instagram and Twitter (Drew and Mike Show, Marc Fellhauer, Trudi Daniels and BranDon).