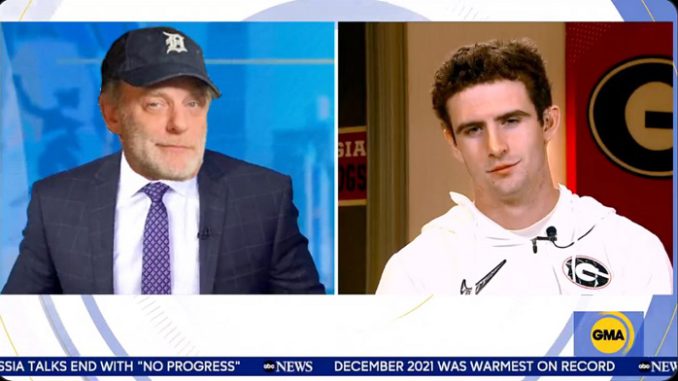 Podcast: Play in new window | Download (Duration: 2:58:27 — 143.4MB)
Georgia won & Stetson Bennett partied, Antonio Brown's fling Ava Louise joins us, Kwame's virtual church, Farrah Abraham sells her poop, Drew v. Jackson Mahomes, Rock & Roll Hall of Fame purge, and Full House > Beaver.
Stetson Bennett cried a lot last night. He then proceeded to do an interview with GMA where he appeared drunk, crabby and incredibly sleepy.
Jamie Lynn Spears will be doing an exclusive interview with GMA that will certainly bother her sister Britney.
Breaking ABNN News: Antonio Brown and Kanye West are collaborating. We talk to AB's one night, Ava Louise.
Hugh Hefner's widow, Crystal, got rid of her boobs and doesn't understand why she lost social media followers.
Signs of a Strong Economy: Farrah Abraham is selling her feces and Chet Hanks is selling NFTs
Jenna Jameson has Guillain-Barre syndrome. Apparently the side effects include massive weight gain and SnapChat filters.
Drew hates Patrick Mahomes for no other reason than Jackson Mahomes. Denver fans were uncreatively mean to him.
Some jerk crashed into a store in Warren and bolted. We check in with Dena Samo to make sure she's ok and explain GoFundMe.
There are some real psychos in The Bachelor house and some are there for the wrong reasons. The really need to bring back Alex Michel.
Social media is dumb but we're on Facebook, Instagram and Twitter (Drew and Mike Show, Marc Fellhauer, Trudi Daniels and BranDon).