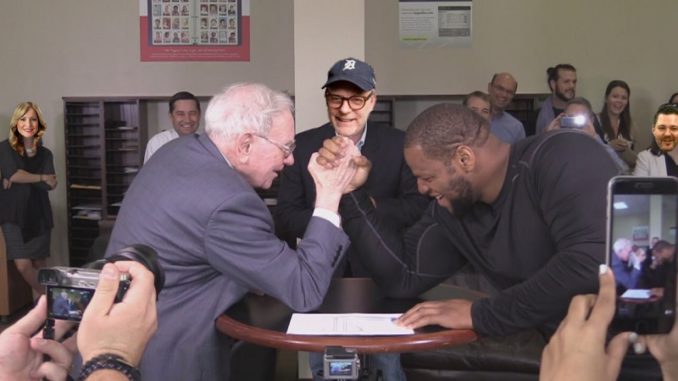 Podcast: Play in new window | Download (Duration: 2:58:23 — 143.1MB)
Suh & Buffett: BFFs, the women in Patrick Mahomes' life, Robinhood suicide, Gorilla Glue hair, Drew Crime, stars just like US, RIP No Filter Sports, and we conduct a post-Super Bowl welfare check on Maz.
The Super Bowl hangover is in full effect. Tom Brady is to blame for thousands of Tampa residents attaining and spreading the COVID-19 virus.
Patrick Mahomes' mom is really hot and upset at the Super Bowl refs. Meanwhile, The Kansas City Chiefs less attractive girlfriend is knocked up.
Ndamukong Suh and Warren Buffett claim they are best friends… but some people are saying that there's something else going on with them.
Tom Brady gets a lot of money from Under Armour and can't be inconvenienced by Nike clothing the NFL makes him wear.
We'd advise you not to put Gorilla Glue in your hair… but if you do, you may get $10,000… so who are we to say?
Framing Britney Spears leaves viewers wondering what Britney Spears IQ is. For the latest on Britney's Instagram, listen to Britney's Gram.
20/20 wasted 2 hours of everybody life following around Larry Birkhead and Dannielynn as they retrace the steps of Anna Nicole Smith, the star of the 1995 straight to video blockbuster "To The Limit".
Tom Mazawey joins the show to complain about the greatness of Tom Brady, break down the new hit series 'Happy Days', cry even more about Gronk & AB, dish on his father's degenerate gambling history, and his hot take on Morgan Wallen.
Drew is looking to find women who have been canceled for being a bad relationship partner. Let him know:

[email protected]

.
Phoebe Bridgers tried to smash a guitar on SNL and failed miserably. She did, however, jump on the Marilyn Manson bandwagon.
A 20-year-old committed suicide after Robinhood sent him an incorrect email and he thought it was his only way out. His family is suing.
Drew Crime includes a double-murder over $50.00, a turd who gets 16 years in prison after killing his wife with an absinthe bottle and a terrible mother/Worst Cooks of America contestant that abused and killed her full of privilege white kids.
Winona Ryder is looking to save Johnny Depp's career. He gonna need it since his latest film, Minamata, totally BOMBED
No Filter Sports has come to an end. Bob Page goes to Twitter to blame everybody but himself for the show ending.
Follow us on Facebook, Instagram and Twitter (Drew and Mike Show, Marc Fellhauer, Trudi Daniels and BranDon).