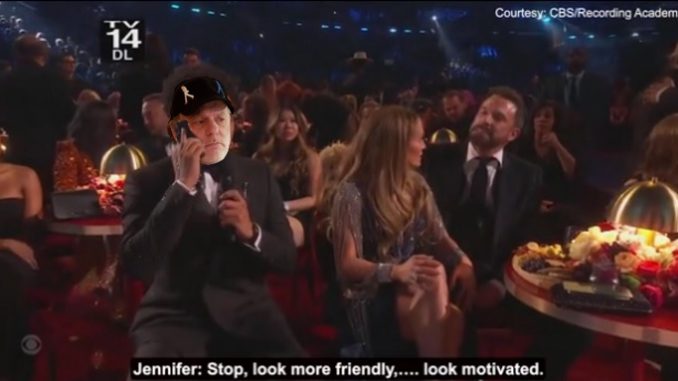 Podcast: Play in new window | Download (Duration: 3:01:30 — 166.6MB)
Grammy leftovers: J-Lo v. Ben & Madonna's weird face, Super Bowl stupidity, WATP Karl joins us with "Golden" content, Turpin TikTok, ABC News is "horned up", and what happened to Fergie?
Remaining Grammy Hot Topics: Jennifer Lopez and Ben Affleck's Grammy spat has been deciphered by a professional lip reader. Madonna's face is so bizarre now that EVERYONE is still talking about it. Her Team Photo is massive.
The State of the Union is here and we're preparing for more hecklers. Charlie LeDuff plans to pop off on Chris Cuomo after the SOTU. Tyre Nichols' family might be used as political pawns.
Karl from WATP joins the show to recap DabbleCon, review The Golden Voice Show with Ted Williams, take a swipe at The Golden Hour podcast and more.
Sports: Super tired Vontae Davis was busted for a DUI. Football causes CTE. Radio Row at the Super Bowl is a big infomercial. Did you know that both teams in the SB have a Kelce? ESPN has a new 30 for 30 about the 2000 Baltimore Ravens and that liar-for-murderers, Ray Lewis. Arian Foster was only kidding about the scripted NFL, so stop it.
Known cocksman, Leonardo DiCaprio, is catching hell for nailing a 19-year-old… but he may not be dating her.
Britney Spears sings Oops I Did it Again acapella and it's terrible. Drew stumbled upon this turd she did with Will.I.Am. When and why did Fergie disappear?
We watch Brendan Schaub's awful trailer for his terrible stand-up special. Check out this decent deepfake, as well.
TJ Holmes is out shopping and the paparazzi is right there to film it. ABC News is super horny and a new girl TJ Holmes banged has come forward.
Social media is dumb, but we're on Facebook, Instagram and Twitter (Drew and Mike Show, Marc Fellhauer, Trudi Daniels and BranDon).