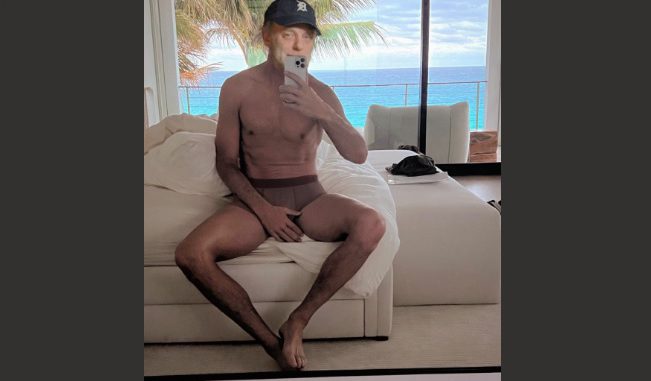 Podcast: Play in new window | Download (Duration: 2:38:28 — 145.5MB)
Tom Brady v. Gisele: Undie Pics, reviewing the Grammys, Michael Jackson's 1st Christmas, Ted Williams Clip of the Day, RHCP on 60 Minutes, Drew Crime: Nikko Jenkins, and WDIV's Karen Drew turns into a narc.
Drew Crime I: Bryan Kohberger has chicks fawning over him. Nikko Jenkins is one of the worst people possibly ever and even HE gets chicks from prison. Alex Murdaugh is cooked.
Tom Brady wants you to see him in his underwear. Some people are saying he looks better than Gisele in her undies.
Grammys: Harry Styles wore dumb clothes and his tendrils were out of control. Bonnie Raitt won big, was totally surprised, and Trudi hates her hair. Some people are saying Beyoncé had diarrhea and was late to the show. She also totally loves the LGBTQ community despite performing a secret show in Dubai. Trevor Noah is so unfunny that they had to fill time with fans talking about their favorite artists. Chris Martin is ripped now. Sam Smith freaked people out and some people feel he needs Jesus. Madonna showed up and scared everybody with her messed up face. Motown rocked the crowd. Jill Biden got a standing ovation, but was doctor snubbed. Quavo and Offset fought each other backstage. Aaron Carter and his "legacy" were snubbed in the In Memoriam. Chris Brown was a sore loser. Lizzo was 'brave' last night. Ozzy Osbourne won a couple Grammys as well, but they wouldn't air Rock and Roll on TV.
This 3rd grader got her beat on the school bus in Florida, so the school suggested she try a different school.
China totally blames the Weather Service Chief for the civilian weather balloon gone wrong. Apparently there are China balloons floating all around us all the time.
Grab your EXCLUSIVE NordVPN Deal by going to nordvpn.com/dams to get a Huge Discount off your NordVPN Plan + a Bonus Gift! It's completely risk free with Nord's 30-day money-back guarantee!
Texas has had enough of TikTok and is looking to ban the app after they have collected a ton of personal data.
Drew Crime II: Drew has stories from Investigation ID's 'Evil Lives Here'.
Hotel Stories: A nude man went crazy with a plunger at an Iowa hotel. Inspectors discovered many violations at a Baymont Inn & Suites in Iowa as well.
The new Michael Jackson biopic (starring Jaafar Jackson) might just gloss over that whole pedophile thing.
Celebrities are hocking the COVID-19 vaccine in a blast of new ads. The mandate for NYC workers has come to an end.
Social media is dumb, but we're on Facebook, Instagram and Twitter (Drew and Mike Show, Marc Fellhauer, Trudi Daniels and BranDon).