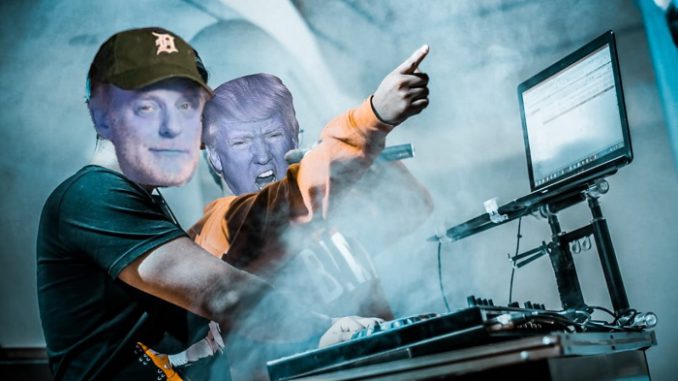 Podcast: Play in new window | Download (Duration: 2:47:03 — 134.3MB)
DJ Donald Trump, Andy Dick checks in, more Joe Rogan news, Winter Olympics underway, Kanye v. Kim: Battle Over TikTok, Sarah Palin v. NY Times, and we call Stan in Canada about the "Freedom Convoy".
We check in with Canada Stan and learn nothing about the Canadian Trucker situation. We do, however, discuss Kid Rock's new tune, Stan's Super Bowl picks and more.
The Joe Rogan/Spotify situation keeps going and going and going. Spotify decided it was easier to pull full episodes instead of bleeping the n-word . His old stand up is now being used against him. Not-A-Prince Harry and Meghan are using this as an excuse for their lack of content on the platform.
One Joe Rogan episode that was pulled featured Andy Dick. We call him to get his feeling on the matter. Meanwhile, check out Andy on Adam Carolla's podcast.
Winter Olympics: Marc thinks Ski Jumping is the dumbest sport. Dan Wetzel is our unofficial Olympic correspondent. The traitorous Chinese skater failed and the USA is delighted. People are angry China keeps getting the Olympics. Savannah Guthrie is a communist shill for accurate reporting and not giving an opinion J.A. Adande feels voter rights = genocide. Vladimir Putin plays by his own rules and the IOC lets him.
Who Are These Podcasts? roasted Nikki Glaser's show. Stuttering John continues to be totally self-aware.
Andy Dick dials us back to comment on the removal of his Joe Rogan appearances from Spotify. He wants us to look at his friend's art.
SPORTS: The Pro Bowl is embarrassing. The Miami Dolphins hired a minority in Mike McDaniel. Deadspin thought McDaniel was white.
Whataboutism: CANCEL JOE BIDEN! Cancel Howard Stern!
Don Lemon is super sad that Jeff Zucker is out, but hasn't said one word about Michael Avenatti. Chris Cuomo exacts his revenge.
SPORTS II: Mike Valenti is always aggravated at Jim Harbaugh. Mitch Albom talked to Jim Harbaugh to get his biased take on the Minnesota Vikings job. Marc prefers the MGoBlog and Sam Webb coverage. Josh Gattis leaves to go to the University of Miami after being "underappreciated". The Detroit Lions are just as racist as Stephen Ross and the Dolphins. Ice Cube loves NASCAR.
Social media is dumb but we're on Facebook, Instagram and Twitter (Drew and Mike Show, Marc Fellhauer, Trudi Daniels and BranDon).