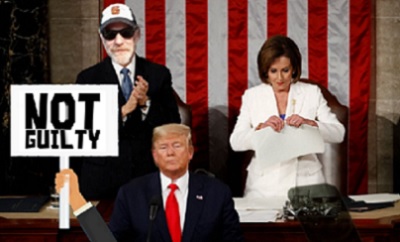 Podcast: Play in new window | Download (Duration: 2:21:43 — 65.3MB)
Trudi Daniels (@TrudiDan) & BranDon (@Pro_Duecer) are here today!
Donald Trump is acquitted, SOTU shenanigans, KC parade police chase, more on Weinstein's weird ween, RIP Kirk Douglas, Huey Lewis hologram tour and we lay down the ground work for the 'Cancel Corporation'.
Charlie LeDuff sparred with ML Elrick today on the Soul of Detroit. Check the video out on Facebook and look out for the episode in the next day or two.
The Saline school meeting is now national news as the George Costanza look-a-like has angered many with his 'Mexico' comment.
Trump & Pelosi were both childish at the State of the Union as they traded petty slights, including refusing a handshake & ripping up the President's speech.
The latest Gallup poll has Trump's approval rating up to 49%, 8% higher than before the impeachment hearings began.
A car chase broke out during the Kansas City Chief's Super Bowl parade, making it most exciting parade in history. Meanwhile, some partially nude dude climbing a tree took quite the fall when he tried to jump from limb to limb.
An 'informed voter' got a little butt-hurt when she found out that Pete Buttigieg was homosexual & asked for her vote back.
Additional audio of Johnny Depp & Amber Heard's healthy relationship has been released. Public opinion is quickly swinging in the opposite direction.
Dr. Grant Robicheaux & his girlfriend were accused of thousands of rapes, but now have had their names cleared thanks to a new District Attorney who doesn't really care for the previous D.A.
Louie Anderson returns to the Royal Oak Music Theater on March 14th. Louie will be back on OUR show next week!
Ken Bone is bummed this election has left him out… so he's announced that he's #YangGang for life. Drew breaks down his podcast, The Bone Zone.
Email leads Drew down a Phish & Grateful Dead rabbit hole. Their shows are a blast & the fan stories are sooo out there!
For the second consecutive day, a female has testified that Harvey Weinstein's penis is one of the grossest they've ever seen.
Breaking News: Kirk Douglas has died at the age of 103.
Huey Lewis and the News are dropping new tunes but are not sure if they can tour due to their health. Time for the Huey Lewis Hologram Tour!
Turns out Jay Z and Beyonce could not stand for the National Anthem at the Super Bowl because they really needed to focus on the sound equipment.
The slightest sympathy for the cancer-fighting Rush Limbaugh leads to angry email and a recap of his pill poppin' days.