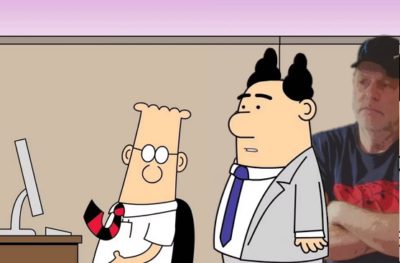 Podcast: Play in new window | Download (Duration: 2:48:39 — 154.8MB)
Dilbert dropped, DTE's 'ice storm of the century', Super Bowl Halftime Show FCC complaints, Drew Crime, Eli Zaret Zooms in, RIP Don Shane, RIP Madonna's brother, Woody Harrelson on SNL, and Boring Austin Green's boring Twitter fight.
Eli Zaret joins the show to eulogize Don Shane, tries to upsell the hapless Detroit Tigers, discuss the new MLB changes, talk the financial woes of Bally Sports, go over the many children of Dwight Howard and more.
Other Sports: Brandon Miller is thriving at Alabama despite being weapon delivery guy in the murder of Jamea Jonae Harris. U of M pulled out a victory over Wisconsin thanks to the most ridiculous 3 pointer. MSU lost in miraculous fashion. That 3rd-grade basketball team that went viral for flexing got DEMOLISHED and are eating humble pie.
Drew Crime: 20/20 covered the story of "influencer" Kelsey Turner, who murdered her C Everett Koop look-a-like sugar daddy . 48 Hours featured a 40-year-old cold case. Drew tells a tale from one of his favorite new shows, Calls From the Inside. Serial-kidnapper, James Parrillo Jr., is massive man and people have been warning about him for years. Justin Gonzalez stopped a drunk driver from fleeing after trying to leave the scene of a fatal crash.
Paris Hilton Stories This Week: Paris was raped at the age of 15. Harvey Weinstein almost raped Paris. Paris has a bunch of frozen eggs saved. We are officially sick of Paris Hilton.
Ashley Morgan Smithline admits she made up all the allegation against Marilyn Manson at the direction of Evan Rachel Wood.
Woody Harrelson hosted SNL and angered some people with his monologue. James Austin Johnson also brought out a new Bill Walton impression.
The cause of the East Palestine derailment was caused by overheating bearings. The hazardous dirt was being shipped to Van Buren Twp, MI without telling anyone.
The 'biggest ice storm of the last 100 years' caused power outages all over SE Michigan. DTE bought ads to defend their lack of preparation.
The accomplice in the Lady Gaga dog-snatching case is pissed that she hasn't received the $500,000 reward yet.
Social media is dumb, but we're on Facebook, Instagram and Twitter (Drew and Mike Show, Marc Fellhauer, Trudi Daniels and BranDon).