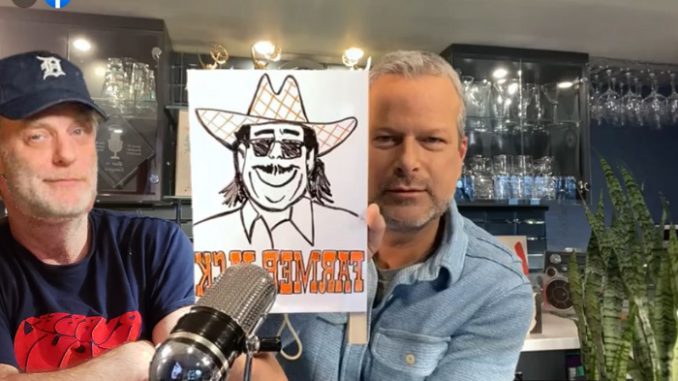 Podcast: Play in new window | Download (Duration: 3:13:13 — 155.2MB)
Jason Carr returns, new info on the University of Alabama basketball shooting, angry Alec Baldwin, Netflix's 'Murdaugh Murders', Trump visits East Palestine, Ted Williams Clip of the Day, Rashone's History of 'No Homo', and a Drew & Mike Show Classic: interview with Jimmy Carter.
Politricks: Donald Trump showed up to East Palestine, Ohio and passed out food and water. Pete Buttigieg does not want to answer a softball question while walking with his husband. Joe Biden fell up the stairs of Air Force One again. Some people are saying Dr. Jill Biden may leave Joe if he decides to run again in 2024.
The Rolling Stones and Beatles are "collaborating", but some people are saying it's not what it seems.
Drew Crime: Dan Wetzel has the best information about the Alabama basketball shooting debacle. Drew has new favorite true crime shows called 'Calls from the Inside' and 'Death by Fame'. Netflix has a new Murdaugh Murders documentary. Drew tells the tale of Hi-Five and a murder surrounding the band. Bryan Kohberger has fans now.
A key charge was dropped against Alec Baldwin. Instead of facing 5 years, he now faces 18 months for manslaughter. That doesn't stop Alec from yelling at complete strangers while trying to get into the wrong car.
MSU basketball was victorious in their first game back in East Lansing since the mass shooting. Victim Nate Statly was the latest victim to be named and there is a GoFundMe you can donate to here.
We leave you with our old interview with former president Jimmy Carter and the Mike Clark/Rosalynn Carter fallout.
Social media is dumb, but we're on Facebook, Instagram and Twitter (Drew and Mike Show, Marc Fellhauer, Trudi Daniels and BranDon).