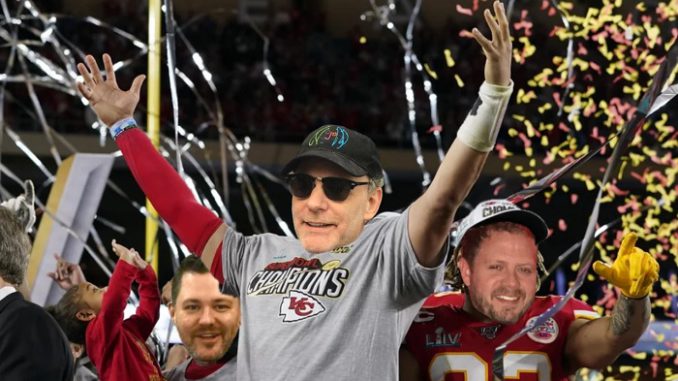 Podcast: Play in new window | Download (Duration: 3:16:02 — 157.5MB)
Kansas City Chiefs win a great Super Bowl with a lousy ending, Jackson Mahomes post-game TikToks, Megan Fox & MGK break up, David Hogg on CBS Sunday Morning, Mitch Albom eulogizes best friend Burt Bacharach, Drew Crime, & the US is under balloon attacks.
Super Bowl LVII: The Kansas City Chiefs win. Travis Kelce is super annoying. The holding penalty was a bad call and bad ending to an otherwise great game. Did you see the all-woman flyover?! Marc got boned on some Super Bowl bets. Jackson Mahomes got his screen time.
Super Bowl Halftime Show: Dan Leach got chills watching the Halftime Show. Rihanna announced her pregnancy by barely moving during the performance. Rihanna smelled her vagina on live TV.
Breaking News: Jackson Mahomes has published his Super Bowl TikTok after taking over his MVP brother's post-game interview.
Super Bowl Commercials: Kevin Bacon made sure his daughter was in a Super Bowl commercial. Crypto ads were NOWHERE TO BE FOUND. JLo ruined Ben Affleck's commercial. Serena Williams was in a million commercials. The Athletic ranked all the commercials. Bradley Cooper pulled a Mike Morse .
Celebrity Sightings in Arizona: Kevin Federline made his way to the Super Bowl. Paris Hilton performed and was awful.
Michael Irvin is pissed off that he got kicked out of the Super Bowl and the Renaissance Hotel. He's now suing for $100M.
Amber Rose showed up on High Low with EmRata do discuss how she tells her 10-year-old what she does on OnlyFans. She has a HUGE Team Photo.
Grab your EXCLUSIVE NordVPN Deal by going to nordvpn.com/dams to get a Huge Discount off your NordVPN Plan + a Bonus Gift! It's completely risk free with Nord's 30-day money-back guarantee!
Love is dead as Megan Fox and Machine Gun Kelly have broken up. She has since deleted her Instagram account and acted like a total teenager. MGK got electrocuted during a performance.
Toronto's mayor has to quit because he nailed some office chick 37 years younger than him. He has apologized to his wife.
More SB: Xfinity customers in Philly lost their TV channels right before kickoff. Joe Biden skipped the normal Super Bowl interview to do an interview with something called Fox Soul.
Name the singer in this Burt Bacharach cover. Mitch Albom and Burt Bacharach were best friends according to Mitch Album.
Drew Crime: 20/20 covered the murder of Julie Jensen. 48 Hours featured a ban robbing mom. Dateline was about the death of Mindy Morgenstern.
Social media is dumb, but we're on Facebook, Instagram and Twitter (Drew and Mike Show, Marc Fellhauer, Trudi Daniels and BranDon).