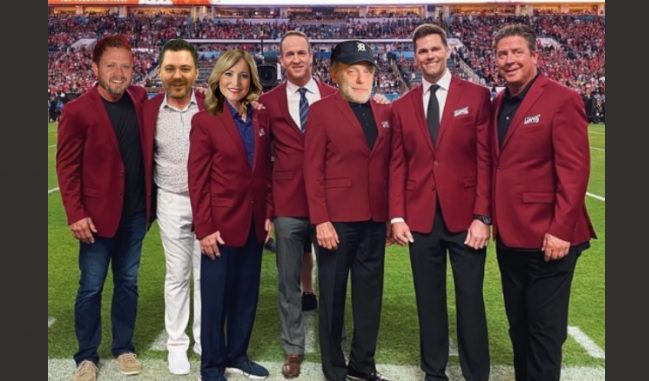 Podcast: Play in new window | Download (Duration: 2:51:04 — 157.1MB)
Tom Brady retires again, Rock & Roll Hall of Fame nominees & snubs, Ted Williams edgy TikTok, Trudi loves J-Lo movies, John Hinckley Jr documentary, Elton John's brother breaks his silence, George Santos' lies, and new "Barbara from Roseville" hot sports takes.
The 2023 Rock and Roll Hall of Fame nominees have dropped. Here is a list of those who have been snubbed… most for good reason.
Mike Lindell popped up on Jimmy Kimmel. Pamela Anderson dropped by as well. Oh, and the Borat movie ruined Pam's marriage with Kid Rock.
Sports: Barbara from Warren has returned to 97.1 The Ticket's airwaves. Tom Brady is retiring… again. An old-school Jim Irsay charity commercial has been found and the language was a little different back in the 90s. Philadelphia Eagle Josh Sills has been indicted on rape and kidnapping charges.
Politics: George Santos steps down from committee duties because he is a compulsive liar. His ex-boyfriend is popping off. Here's a long thread on how much of a scumbag acts allegedly committed by Matt Gaetz. The DOJ searched Joe Biden's beach house, but found nothing. Hunter Biden's laptop reveals he was nailing a bunch of chicks on the payroll. Hunter's art dealer feels he is the greatest artist of this generation.
Michelle Obama kicks off a new podcast deal now that the $25 million deal with Spotify is over. Get ready for The Light Podcast!
Alex Murdaugh's trial rolls on and Mandy Matney is nowhere to be found. Alex sobbed some more today.
It sure sounds like Ashton Kutcher is #TeamDannyMasterson. Ashton is pretty angry that Demi Moore spilled about their relationship in her book.
Social media is dumb, but we're on Facebook, Instagram and Twitter (Drew and Mike Show, Marc Fellhauer, Trudi Daniels and BranDon).