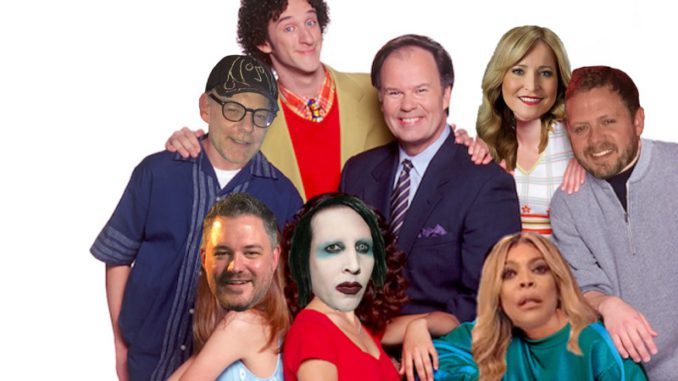 Podcast: Play in new window | Download (Duration: 2:59:21 — 143.8MB)
RIP Dustin 'Screech' Diamond, Marilyn Manson #MeToo'd, Wendy Williams doc, Jimmy Kimmel v. Jon Stewart, Halle Berry's child, Tom Cruise's nightmare production, and QAnon oopsies.
Karl from WATP cannot join us tomorrow due to band practice. Tom Mazawey will pinch hit in his absence.
We dial up the girl who's cell phone number used to be Dennis Haskin's to eulogize Screech. While we're at it, we dial up Leonard Nimoy to see if his number still works. To our horror, it does.
Best wishes to Tony Bennett, who is battling Alzheimer's Disease. At least he has his slightly younger wife to take care of him.
FYI: Bradley Cooper's co-parenting is going great and he totally helped Ben Affleck get sober… so we decide to call Vincent James!
Drew loved The Disaster Artist, Marc recommends the bad film with good acting, The Little Things, and Trudi is on a weird Godzilla kick.
Marilyn Manson has been dropped by his record label after abuse allegations arise from Evan Rachel Wood and other women.
Kelly Stafford can't wait to get to California, but she's not allowed to say "goodbye" again. Mitch Albom weighs in on the Stafford / Goff trade.
Some people are saying the Detroit Free Press pulled the old bait and switch with their subscription prices.
Halle Berry once wanted you to stay away from her child… now she wants you to follow her child as he/she/they challenges gender stereotypes.
SNL started off with a hot make out session that twitter loved and hated. Machine Gun Kelly played a guitar.
That nurse who passed out after getting the COVID vaccine is NOT dead. Many morons feel the vaccine took her out.
A few of the folks who participated in the January 6th insurrection didn't even vote and, therefore, they had no vote to be stolen.
Follow us on Facebook, Instagram and Twitter (Drew and Mike Show, Marc Fellhauer, Trudi Daniels and BranDon).