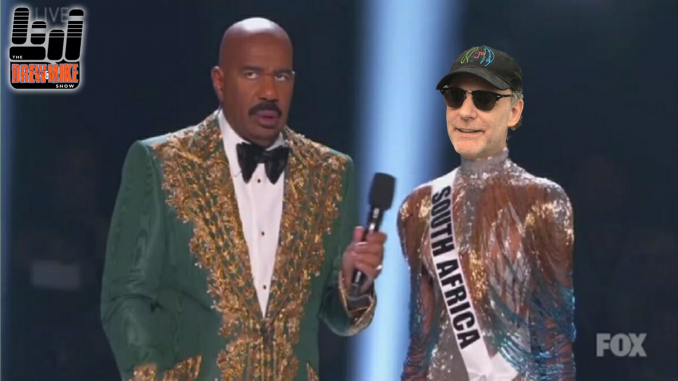 Podcast: Play in new window | Download (Duration: 2:06:05 — 58.2MB)
Trudi Daniels (@TrudiDan) & Marc Fellhauer (@MarcFell) are here today!
We have a new Miss Universe, Ed Smart happily breaks his silence, Golden Globe nominations, The Lost Women of NXIVM, a butt-slapping jerk is doxed and we finally call CFL Stan.
The wife in the Peloton ad is getting praise & the husband is getting his panties in a twist about his portrayal in an SNL skit.
A jerk who smacked a reporter's butt during a marathon and the internet gets him banned from all runs forever.
Winnipeg won the Grey Cup a week ago so we're finally calling CFL Stan to congratulate him on his team's victory. Instead we end up talking to Stan's wife about the latest Kid Rock story.
One of R. Kelly's alleged sex slaves Azriel Clary has moved out of the singers Trump Towers suite, but wants to clarify she still supports Kelly… until the money is 100% gone.
The Lost Women of NXIVM on Investigation Discovery links NXIVM leader Keith Raniere, aka Vanguard, to the disappearance of 4 women.
Maz heard on the podcast Somebody tipped off Maz that we were talking about his Jimmy John's tweet & called the Boner line to pop off.
Marriage Story received a bunch of Golden Globe nomination and a high Tomamater rating, but one person really really hates it.
John Travolta is pushing his aviation knowledge by pointing out that the planes in Quentin Tarantino's Once Upon A Time In Hollywood had historical inaccuracies.
Buzzfeed's list of the "25 Best TV Episodes of the Decade" features a whole lot of shows of which Drew has never heard.
Mike Pompeo tried to show some love to Linda Ronstadt during a Kennedy Center honors ceremony & Linda had to immediately respond.
Juice WRLD enters a death triangle with Big Bird & Bump Elliot after passing away on a private jet carrying 70 lbs of weed, a couple bottles of codeine & some guns.
Some people are saying Tom Brady is losing the spice melange. Patrick Mahomes girlfriend had to be saved by security after cheering for the Kansas City Chiefs while surrounded by New England Patriots fans.
Elon Musk jammed his CyberTruck full of hot chicks & took it out to Nobu in LA after winning his defamation suit against 'Pedo Guy'.
The Golden Globes are catching flack for having an all-male list of nominees for the category of best director.
Ed Smart, the father of formerly kidnapped Elizabeth Smart, went on CBS This Morning to break his silence about 'coming out'.
Lizzo wore a buttless dress to the Lakers game so she could twerk for the camera during the commercial break.