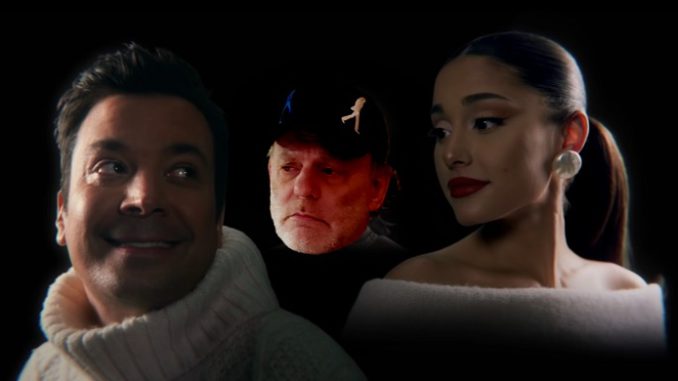 Podcast: Play in new window | Download (Duration: 2:51:54 — 138.2MB)
Jimmy Fallon's garbage Christmas song, Jussie Smollett: defiant liar, WATP's Karl joins us, celebs without social media, Oxford tragedy updates, China's NDAs, Drake v. the Grammys, and Drew & Lyla vs. the world.
David Hogg is still around but no one is paying attention to him these days He fancies himself a political revolutionary.
Kyle Rittenhouse popped up on a podcast responding to LeBron James criticism of him… and TMZ is livid that he has a "platform".
Jussie Smollett can say and write the n-word, but white prosecutors better not read his words out loud. Don Lemon used his Chicago Police sources to tip off Jussie.
WATP's Karl joins the show to explain the Buffalo Bills loss, destroy Las Culturistas with Matt Rogers and Bowen Yang (not THIS Matt Rogers) and give us a taste of Dave & Chuck's new uncensored podcast.
Joe Rogan unloads on CNN. Media Matters listed every single thing they hate about Joe Rogan's show in 2021.
Oxford Updates: The artist who helped out the Crumbley parents plays dumb. The Detroit Pistons honored the victims. Rep. John Reilly's listening party turns heated regarding gun laws. Oxford turned down Dana Nessel's political stunt of offering an independent investigation… because they are already cooperating with the one conducted by Oakland County.
Aaron Carter is back with his baby mama after a two-week hiatus. Awwwwww. Today is his birthday, so buy his merch at half off!
Auto crimes: A stolen school bus in NYC goes on a rampage. Check out this limo stunt driving on the Las Vegas Strip.
More Oxford: More violent threats in western Michigan. Walled Lake was locked down due to a fake threat. Neighbors seemed to hate the Crumbley's. Ethan Crumbley fell at work last year and hit his head.
Jimmy Fallon, Ariana Grande and Megan Thee Stallion release the worst Christmas song of all-time. We think they are trying to be funny.
Ted Nugent and David Lee Roth don't have meaningful conversations with each other. DLR has added more farewell shows.
There actually are celebs without social media… and we find them more interesting than the ones with it.
Social media is dumb but we're on Facebook, Instagram and Twitter (Drew and Mike Show, Marc Fellhauer, Trudi Daniels and BranDon).